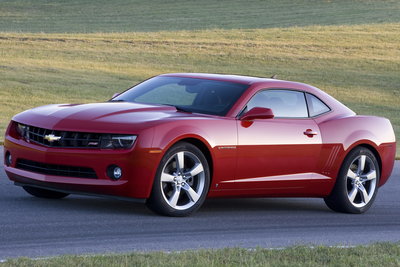 At a Glance
| | |
| --- | --- |
| Pricing | $22,245 - $34,615 |
| Drive Types | RWD |
| Engines | 3.6l V6, 6.2l V8 |
| Transmissions | A6, M6 |
| Fuel Economy | 16-18 (city), 24-29 (highway) |
Overview Information
Through five generations, the Chevrolet Camaro has been General Motor's answer to the successful Ford Mustang. In 2003, Chevrolet dropped the Camaro due to sagging sales, but six years later, the Camaro lives again as an answer to strong sales from the Mustang. The Camaro is a thoroughly modern vehicle with fresh new styling and strong performance credentials. Three trim levels are offered: LS, LT and SS. LS and LT models equip a 304-bhp, 3.6L V6 engine. It is the 6.2L V8 powered SS that will have people reliving the muscle car era. With prices ranging from the mid twenties to the high thirties, the Camaro offers outstanding performance value across the range.
What Changed:
The Camaro returns after a six-year absence. The new model wears styling that is reminiscent of the first generation Camaro. Compared to the Mustang, the Camaro is bigger and heavier, but slightly smaller on the inside. Two powertrains are offered: a 3.6L V6 and a 6.2L V8. Six speed manual and automatic transmissions are offered in all trim levels.
Official Word:
The wait is over. After a seven-year hiatus, the new Chevrolet Camaro is now back in dealer showrooms. Combining great looks, performance and advanced technology, the 2010 Camaro honors its heritage while delivering on customer expectations of a sports coupe for the 21st century. "The new Camaro delivers a modern, advanced package of performance, comfort and technology," said Ed Peper, Chevrolet general manager and General Motors vice president. "It's a personal car for a generation of...Read.
| Model/Trim/Package | Engine | | | MPG | VjI | Base Price |
| --- | --- | --- | --- | --- | --- | --- |
| Camaro LS | 3.6l V6 (304-bhp) | M6 | RWD | 17/29/22 | | $22,245 |
| Camaro LS | 3.6l V6 (304-bhp) | A6 | RWD | 18/29/23 | | $23,240 |
| Camaro 1LT | 3.6l V6 (304-bhp) | M6 | RWD | 17/29/22 | | $23,880 |
| Camaro 1LT | 3.6l V6 (304-bhp) | A6 | RWD | 18/29/23 | | $24,875 |
| Camaro 2LT | 3.6l V6 (304-bhp) | M6 | RWD | 17/29/22 | | $26,580 |
| Camaro 2LT | 3.6l V6 (304-bhp) | A6 | RWD | 18/29/23 | | $27,765 |
| Camaro 1SS | 6.2l V8 (422-bhp) | M6 | RWD | 16/24/20 | | $30,245 |
| Camaro 1SS | 6.2l V8 (400-bhp) | A6 | RWD | 16/25/20 | | $31,240 |
| Camaro 2SS | 6.2l V8 (422-bhp) | M6 | RWD | 16/24/20 | | $33,430 |
| Camaro 2SS | 6.2l V8 (400-bhp) | A6 | RWD | 16/25/20 | | $34,615 |
Comparisons
Videos
Model History