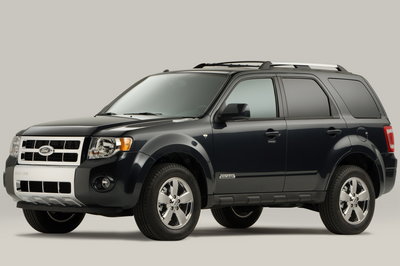 At a Glance
| | |
| --- | --- |
| Pricing | $19,005 - $28,255 |
| Drive Types | FWD, AWD |
| Engines | 2.3l I4, 2.3l I4 HEV, 3.0l V6 |
| Transmissions | A4, CVT, M5 |
| Fuel Economy | 17-34 (city), 22-30 (highway) |
Overview Information
The Ford Escape continues to be a success in the compact SUV segment. This SUV offers a combination of nimble handling, comfortable ride, and an optional 3.0L V-6 for decent performance. The standard 2.3L I-4 is available with a 5-speed manual or 4-speed automatic. Only the 4-speed automatic is available with the V-6. In 2005, Ford added a hybrid powertrain version. By alternately running off batteries and the gasoline engine, the Escape Hybrid boasts a 36 mpg rating in city driving. Although the Escape's AWD system is optimized for on-road traction, it is capable of light duty off-road excursions. Customers looking to optimize fuel economy can choose a FWD only version of any model.
What Changed:
The 2008 Escape features updated styling inside and out. The most notable changes are to the front and rear fascias, but most of the sheet metal is new. Outside of a new electric power steering system, the chassis and powertrains are largely the same.
Official Word:
The Ford Escape, America's best-selling compact utility vehicle, has a completely new look inside and out for 2008. Escape now makes a powerful statement with a bolder, rugged exterior design that bears a stronger family resemblance to the Ford Explorer and Ford Expedition. The all-new interior resets the bar for small utility vehicles, with more upscale appointments, new innovative storage options, and improved comfort and quietness. In addition, chassis refinements deliver impressive fuel economy and agile...Read.
| Model/Trim/Package | Engine | | | MPG | VjI | Base Price |
| --- | --- | --- | --- | --- | --- | --- |
| Escape XLS | 2.3l I4 (153-bhp) | M5 | FWD | 22/28/25 | | $19,005 |
| Escape XLS | 2.3l I4 (153-bhp) | A4 | FWD | 20/26/23 | | $20,005 |
| Escape XLS | 2.3l I4 (153-bhp) | A4 | AWD | 19/24/21 | | $21,745 |
| Escape XLT | 2.3l I4 (153-bhp) | A4 | FWD | 20/26/23 | | $21,305 |
| Escape XLT | 3.0l V6 (200-bhp) | A4 | FWD | 18/24/21 | | $22,305 |
| Escape XLT | 2.3l I4 (153-bhp) | A4 | AWD | 19/24/21 | | $23,055 |
| Escape XLT | 3.0l V6 (200-bhp) | A4 | AWD | 17/22/19 | | $24,055 |
| Escape Limited | 3.0l V6 (200-bhp) | A4 | FWD | 18/24/21 | | $24,005 |
| Escape Limited | 3.0l V6 (200-bhp) | A4 | AWD | 17/22/19 | | $25,755 |
| Escape Hybrid | 2.3l I4 HEV (133-bhp) | CVT | FWD | 34/30/32 | | $26,505 |
| Escape Hybrid | 2.3l I4 HEV (133-bhp) | CVT | AWD | 29/27/28 | | $28,255 |
Comparisons
Reviews
Videos
Model History