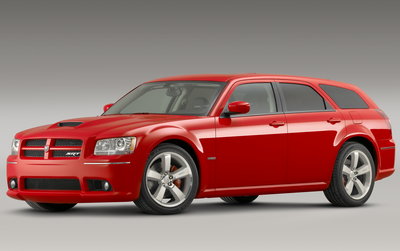 At a Glance
| | |
| --- | --- |
| Pricing | $23,420 - $37,905 |
| Drive Types | RWD, AWD |
| Engines | 2.7l V6, 3.5l V6, 5.7l V8, 6.1l V8 |
| Transmissions | A4, A5 |
| Fuel Economy | 15-18 (city), 22-26 (highway) |
Overview Information
The SRT8 version of the Magnum features a bored out HEMI with an increased displacement of 6.1L. The 6.1L HEMI produces 425-bhp and 420 lb.-ft. of torque. This is an increase of 85-bhp over the 5.7L HEMI in the Magnum R/T. A revised suspension and upgraded brakes provide additional control for the extra performance. Unique front and rear fascias, 20-inch wheels, Brembo brakes, and 45-series tires round out the SRT8 package. Dodge claims 0-60 times in the low 5 second range. The Magnum R/T and SXT are available in AWD models.
What Changed:
A new hood, grille, and front fascia tighten up the styling. Drag racers will love the new RCD (Reconfigurable Display) that shows performance data.
Official Word:
The newly restyled 2008 Dodge Magnum lineup - including SRT8, R/T, SXT and SE models - continues the boldly-styled theme of American muscle, with its unique profile, exceptional versatility, HEMI(R) power, fuel-saving cylinder deactivation and rear-wheel-drive or all-wheel-drive performance. Advanced technologies, flexible and functional cargo space and integrated safety and security features combine to provide a powerful, capable family vehicle with the ride and handling of a sports car. A package unlike any other in the...Read.
| Model/Trim/Package | Engine | | | MPG | VjI | Base Price |
| --- | --- | --- | --- | --- | --- | --- |
| Magnum SE | 2.7l V6 (190-bhp) | A4 | RWD | 18/26/22 | | $23,420 |
| Magnum SXT | 3.5l V6 (250-bhp) | A4 | RWD | 17/24/20 | | $27,225 |
| Magnum SXT | 3.5l V6 (250-bhp) | A5 | AWD | 15/22/18 | | $29,855 |
| Magnum R/T | 5.7l V8 (340-bhp) | A5 | RWD | 15/23/19 | | $31,780 |
| Magnum R/T | 5.7l V8 (340-bhp) | A5 | AWD | 15/22/18 | | $33,880 |
| Magnum SRT8 | 6.1l V8 (425-bhp) | A5 | RWD | | | $37,905 |
Comparisons
Reviews
Videos
Model History