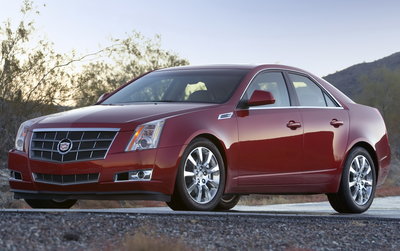 At a Glance
| | |
| --- | --- |
| Pricing | $32,745 - $45,110 |
| Drive Types | RWD, AWD |
| Engines | 3.6l V6 |
| Transmissions | A6, M6 |
| Fuel Economy | 16-18 (city), 25-26 (highway) |
Overview Information
This new low slung CTS is a serious sports sedan that requires no apologies. The fresh interior design is complemented with high quality materials. Engine choices include two versions of the 3.6L V-6 (263-bhp and 304-bhp). To get the extra 41-bhp, the 3.6L features direct fuel injection and a 11.4:1 compression ratio. Transmission choices include a 6-speed manual or automatic. Optional AWD and a limited-slip differential provide additional traction. Standard 17-inch alloy wheels can be upgraded to 18-inch alloys. Optional summer performance tires are available with the 18-inch wheels. The CTS has a wide array of option packages that can easily add up to $12,000 to the base price.
What Changed:
The all-new Cadillac CTS improves upon its predecessor with new styling and slightly larger proportions. The standard 3.6L V6 produces 263-hp, but an optional direct injection version produces 304-hp. Offered in both RWD and AWD models, all are equipped with a standard six-speed automatic. The CTS-V model is temporarily unavailable and will reappear for the 2009 model year.
Official Word:
Cadillac's recent and historic resurgence has brought it back to the top tier of luxury auto brands, but it was only the beginning. The next epoch in Cadillac's renaissance begins with the all-new 2008 CTS - the next generation of the popular luxury sport sedan that is intended to challenge the world's best. Designers and engineers focused not only on the overall package, but on the myriad of details that would allow the CTS to transcend...Read.
| Model/Trim/Package | Engine | | | MPG | VjI | Base Price |
| --- | --- | --- | --- | --- | --- | --- |
| CTS | 3.6l V6 (263-bhp) | M6 | RWD | 16/25/20 | | $32,745 |
| CTS | 3.6l V6 (263-bhp) | A6 | RWD | 18/26/22 | | $34,045 |
| CTS 3.6L DI | 3.6l V6 (304-bhp) | A6 | RWD | 17/26/21 | | $35,045 |
| CTS | 3.6l V6 (263-bhp) | A6 | AWD | 17/25/21 | | $35,945 |
| CTS 3.6L DI | 3.6l V6 (304-bhp) | A6 | AWD | 17/26/21 | | $36,945 |
| CTS Luxury | 3.6l V6 (263-bhp) | M6 | RWD | 16/25/20 | | $35,345 |
| CTS Luxury | 3.6l V6 (263-bhp) | A6 | RWD | 18/26/22 | | $36,645 |
| CTS 3.6L DI Luxury | 3.6l V6 (304-bhp) | A6 | RWD | 17/26/21 | | $37,645 |
| CTS Luxury | 3.6l V6 (263-bhp) | A6 | AWD | 17/25/21 | | $38,545 |
| CTS 3.6L DI Luxury | 3.6l V6 (304-bhp) | A6 | AWD | 17/26/21 | | $39,545 |
| CTS Performance | 3.6l V6 (263-bhp) | M6 | RWD | 16/25/20 | | $36,045 |
| CTS Performance | 3.6l V6 (263-bhp) | A6 | RWD | 18/26/22 | | $37,345 |
| CTS 3.6L DI Performance | 3.6l V6 (304-bhp) | A6 | RWD | 17/26/21 | | $38,345 |
| CTS Performance | 3.6l V6 (263-bhp) | A6 | AWD | 17/25/21 | | $39,245 |
| CTS 3.6L DI Performance | 3.6l V6 (304-bhp) | A6 | AWD | 17/26/21 | | $40,245 |
| CTS Premium Luxury | 3.6l V6 (263-bhp) | M6 | RWD | 16/25/20 | | $40,910 |
| CTS Premium Luxury | 3.6l V6 (263-bhp) | A6 | RWD | 18/26/22 | | $42,210 |
| CTS 3.6L DI Premium Luxury | 3.6l V6 (304-bhp) | A6 | RWD | 17/26/21 | | $43,210 |
| CTS Premium Luxury | 3.6l V6 (263-bhp) | A6 | AWD | 17/25/21 | | $44,110 |
| CTS 3.6L DI Premium Luxury | 3.6l V6 (304-bhp) | A6 | AWD | 17/26/21 | | $45,110 |
Comparisons
Videos
Model History