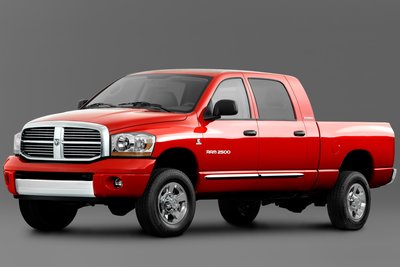 At a Glance
| | |
| --- | --- |
| Pricing | $31,860 - $42,885 |
| Drive Types | RWD, 4WD |
| Engines | 5.7l V8, 5.9l I6 |
| Transmissions | A4, A5, M6 |
Overview Information
The Mega Cab offers a more spacious interior by extending the cab some 20 inches compared to the standard 4-door crew cab model. The Mega Cab is based on the 2500 heavy duty series long bed frame only with the shorter 6' 3" bed installed. Mega Cab is offered in 1500, 2500, 3500 models in 4x2 and 4x4 configurations. Powertrain options are limited to 5.7L HEMI V-8 and a 5.9L Cummins turbo-diesel with over 600 lb-ft of torque. Trucks usually have very cramped rear seats, but the Mega Cab features rear seat leg room in excess of 44 inches making it more spacious than that of a standard wheelbase Town Car or Cadillac DeVille. Despite the civility of its interior, the Mega Cab is still a long truck. It seems destined for improving the life of those that pull trailers on the highway.
What Changed:
All-new truck model with a cab that is 20 inches longer. Mega Cab is based on the standard 2500 long bed frame with a shorter 6'3" bed installed. 1500, 2500, 3500 series are offered with a choice of either Cummins turbo diesel or HEMI power.
Official Word:
"Packaged with full-size Ram capability, the all-new 2006 Dodge Ram Mega Cab offers the most interior passenger space, cargo capacity and functionality of any pickup truck on the market. Dodge Ram Mega Cab is the first and only pickup truck to comfortably seat six adults and provide enough interior space to bring along plenty of gear." -- Darry Jackson, Vice President, Dodge Marketing.
| Model/Trim/Package | Engine | | | MPG | VjI | Base Price |
| --- | --- | --- | --- | --- | --- | --- |
| Ram Mega Cab SLT, Laramie | 5.7l V8 (345-bhp) | A5 | RWD | | | $31,860 |
| Ram Mega Cab SLT, Laramie | 5.7l V8 (345-bhp) | A5 | 4WD | | | $35,080 |
| Ram Mega Cab SLT, Laramie | 5.9l I6 (325-bhp) | M6 | RWD | | | $38,600 |
| Ram Mega Cab SLT, Laramie | 5.9l I6 (325-bhp) | M6 | 4WD | | | $41,715 |
| Ram Mega Cab SLT, Laramie | 5.9l I6 (325-bhp) | A4 | RWD | | | $39,770 |
| Ram Mega Cab SLT, Laramie | 5.9l I6 (325-bhp) | A4 | 4WD | | | $42,885 |
| Ram Mega Cab SLT, Laramie | 5.7l V8 (345-bhp) | A5 | RWD | | | $34,165 |
| Ram Mega Cab SLT, Laramie | 5.7l V8 (345-bhp) | A5 | 4WD | | | $37,280 |
Comparisons
Reviews
Press Releases
Videos
Model History