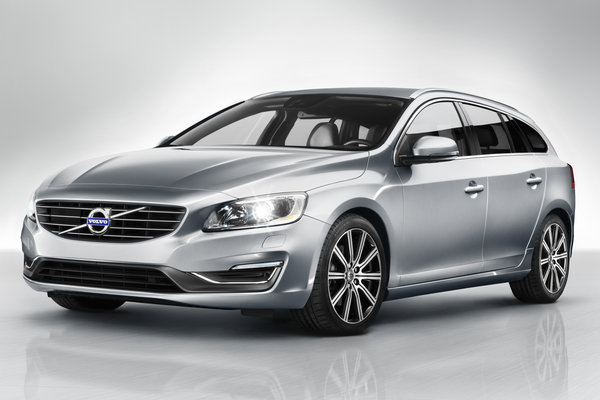 At a Glance
| | |
| --- | --- |
| Pricing | $35,750 - $48,550 |
| Drive Types | FWD, AWD |
| Engines | 2.0l I4 T, 2.5l I5 T, 3.0l I6 T |
| Transmissions | A6, A8 |
Our Ratings
Overview Information
The V60 wagon is headed to the US market. Although the wagon was announced in March 2013, production models aren't due until early 2014.
What Changed:
The V60 wagon will join Volvo's US lineup in 2014. The V60 is a wagon version of the S60 sedan with a larger cargo area and a 40/20/40 split rear seat for utility. An R-Design variant of the V60 will also be offered.
Official Word:
Volvo Cars will unveil the long-awaited V60 Cross Country at the 2014 Los Angeles Auto Show later this month. "We are delighted to add the third true Cross Country model to our product portfolio. The successful combination of dynamic styling and rugged capability places the V60 Cross Country in a class of its own," said Lex Kerssemakers, Senior Vice President Product Strategy and Vehicle Line Management at Volvo Cars. Heritage The Cross Country brand has a...Read.
| Model/Trim/Package | Engine | | | MPG | VjI | Base Price |
| --- | --- | --- | --- | --- | --- | --- |
| V60 T5 Drive-E | 2.0l I4 T (240-bhp) | A8 | FWD | | 57 | $35,750 |
| V60 T5 Drive-E Premier | 2.0l I4 T (240-bhp) | A8 | FWD | | 57 | $37,650 |
| V60 T5 Drive-E Platinum | 2.0l I4 T (240-bhp) | A8 | FWD | | 57 | $41,300 |
| V60 T5 AWD | 2.5l I5 T (250-bhp) | A6 | AWD | | 56 | $37,250 |
| V60 T5 AWD Premier | 2.5l I5 T (250-bhp) | A6 | AWD | | 56 | $39,150 |
| V60 T5 AWD Platinum | 2.5l I5 T (250-bhp) | A6 | AWD | | 56 | $42,800 |
| V60 T6 AWD R-Design | 3.0l I6 T (325-bhp) | A6 | AWD | | 60 | $45,150 |
| V60 T6 AWD R-Design Platinum | 3.0l I6 T (325-bhp) | A6 | AWD | | 60 | $48,550 |
Comparisons
Reviews
Videos
Model History