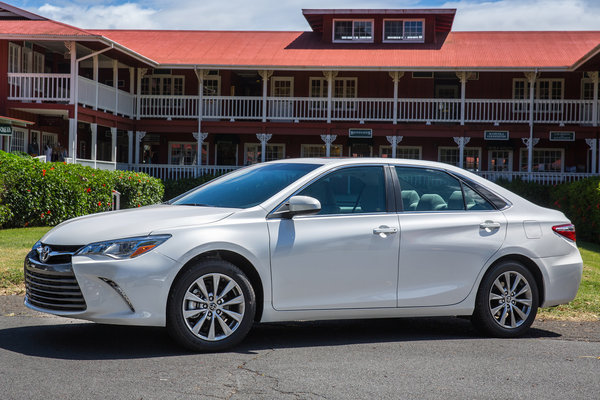 At a Glance
| | |
| --- | --- |
| Pricing | $22,970 - $31,370 |
| Drive Types | FWD |
| Engines | 2.5l I4, 2.5l I4 HEV, 3.5l V6 |
| Transmissions | A6, CVT |
| Fuel Economy | 21-43 (city), 31-39 (highway) |
Our Ratings
Overview Information
The Camry is Toyota's mid-sized sedan and a perennial top-seller. The Camry has a solid reputation for reliability that makes it an automatic choice for many buyers. Most families looking for a new car should start their search with a mid-sized sedan. These vehicles have seating for five passengers, large trunks, good fuel economy, and are priced less than most SUVs. The Camry is the embodiment of these traits with over 80 inches of combined legroom, 13.1 cubic feet of cargo volume in the trunk, and fuel economy of 25/35 (city/highway) for four cylinder models. Toyota offers the front-wheel-drive Camry in several trim levels with three powertrains. The Camry range starts with the LE model which includes basic power equipment and steel wheels with wheel covers. All grades equip a standard 2.5l four-cylinder engine paired with a six-speed automatic. A 3.5l V6 is available on the XSE and XLE and also adds additional packaged features. The Camry range also includes Toyota's famed hybrid system which is offered in LE, XSE and XLE grades. Hybrid models add about $3500 to the price, but substantially increase fuel economy to an EPA rated 43/39 (city/highway). With Camry prices ranging from $23,000-$32,000, comparison shoppers will find that there are more powerful, stylish or affordable choices in the segment. However, the Camry represents a good overall blend of the segments best traits and very few cars can equal the Camry's stellar reputation.
What Changed:
The Camry underwent a rather dramatic mid-cycle facelift for the 2015 model year. Most body panels are new with a more aerodynamic look than before. Powertrain choices remain largely the same. Trim levels have been modified to: LE, SE, XSE, and XLE. Hybrid variants are up to three trim levels: LE, SE, and XLE.
Official Word:
So what do you do when you have the best-selling car in the industry for 12 straight years? You find ways to make it even better. That's exactly what Toyota did with the introduction of the new 2015 Camry. After selling almost a million of the industry's benchmark sedan since the current generation launched in 2011, Toyota stripped it down to its chassis and rebuilt it from the ground up, raising the bar yet again in...Read.
| Model/Trim/Package | Engine | | | MPG | VjI | Base Price |
| --- | --- | --- | --- | --- | --- | --- |
| Camry LE | 2.5l I4 (178-bhp) | A6 | FWD | 25/35/30 | 55 | $22,970 |
| Camry SE | 2.5l I4 (178-bhp) | A6 | FWD | 25/35/30 | 58 | $23,840 |
| Camry XSE | 2.5l I4 (178-bhp) | A6 | FWD | 25/35/30 | 61 | $26,150 |
| Camry XLE | 2.5l I4 (178-bhp) | A6 | FWD | 25/35/30 | 58 | $26,150 |
| Camry Hybrid LE | 2.5l I4 HEV (200-bhp) | CVT | FWD | 43/39/41 | 48 | $26,790 |
| Camry Hybrid SE | 2.5l I4 HEV (200-bhp) | CVT | FWD | 40/38/39 | 51 | $27,995 |
| Camry Hybrid XLE | 2.5l I4 HEV (200-bhp) | CVT | FWD | 40/38/39 | 51 | $29,980 |
| Camry XLE | 3.5l V6 (268-bhp) | A6 | FWD | 21/31/26 | 60 | $31,370 |
| Camry XSE | 3.5l V6 (268-bhp) | A6 | FWD | 21/31/26 | 63 | $31,370 |
Comparisons
Videos
Model History