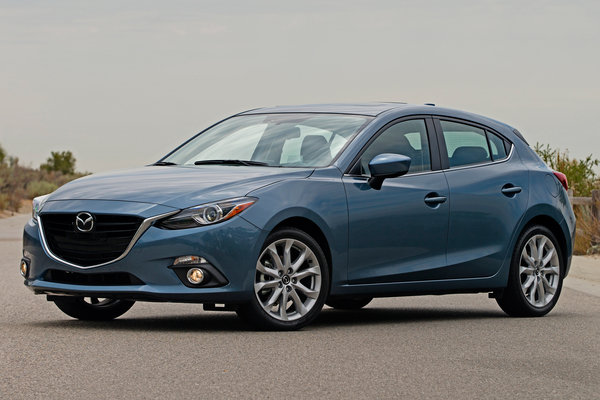 At a Glance
| | |
| --- | --- |
| Pricing | $18,945 - $26,495 |
| Drive Types | FWD |
| Engines | 2.0l I4, 2.5l I4 |
| Transmissions | A6, M6 |
| Fuel Economy | 27-30 (city), 37-40 (highway) |
Our Ratings
Overview Information
The Mazda3 is one of the better examples of the compact segment. To succeed in this segment, it takes a combination of style, value and fuel economy. While the Mazda3 delivers on style and fuel economy, it is no longer the value that it once was. Offered in both 4-door sedan and 5-door wagon body styles the Mazda3 has models ranging from the basic to fully-loaded. Engine choices include a 2.0l four-cylinder engine and a large-displacement 2.5l four cylinder.
What Changed:
The Mazda3 is all-new for 2014. The new model has a longer wheelbase and wider track, but is slightly shorter in height and length than the prior model. Interior legroom is similar, but overall interior volume has increased. Two powertrains are offered: a 2.0l four-cylinder rated at 155-bhp and a 2.5l four-cylinder rated at 184-bhp
Official Word:
Ten years ago the first Mazda3 was born, and today the global birthday party kicks off with the world premiere of the all-new 2014 Mazda3. With same-day unveil events in New York, London, Istanbul, Melbourne and St. Petersburg, this completely redesigned and re-imagined third-generation model seeks to again propel Mazda3 as the leader in its segment. Engineered with the full complement of SKYACTIV(R)(1) technologies - a proprietary suite of fuel-efficient, performance-driven components and manufacturing philosophies -...Read.
| Model/Trim/Package | Engine | | | MPG | VjI | Base Price |
| --- | --- | --- | --- | --- | --- | --- |
| Mazda3 5d i Sport | 2.0l I4 (155-bhp) | M6 | FWD | 29/40/34 | 59 | $18,945 |
| Mazda3 5d i Sport | 2.0l I4 (155-bhp) | A6 | FWD | 30/40/34 | 59 | $19,995 |
| Mazda3 5d i Touring | 2.0l I4 (155-bhp) | M6 | FWD | 29/40/34 | 59 | $20,095 |
| Mazda3 5d i Touring | 2.0l I4 (155-bhp) | A6 | FWD | 30/40/34 | 59 | $21,145 |
| Mazda3 5d i Grand Touring | 2.0l I4 (155-bhp) | M6 | FWD | 29/40/34 | 59 | $23,245 |
| Mazda3 5d i Grand Touring | 2.0l I4 (155-bhp) | A6 | FWD | 30/40/34 | 59 | $24,295 |
| Mazda3 5d s Touring | 2.5l I4 (184-bhp) | A6 | FWD | 27/37/32 | 63 | $25,095 |
| Mazda3 5d s Grand Touring | 2.5l I4 (184-bhp) | A6 | FWD | 27/37/32 | 63 | $26,495 |
Comparisons
Reviews
Videos
Model History