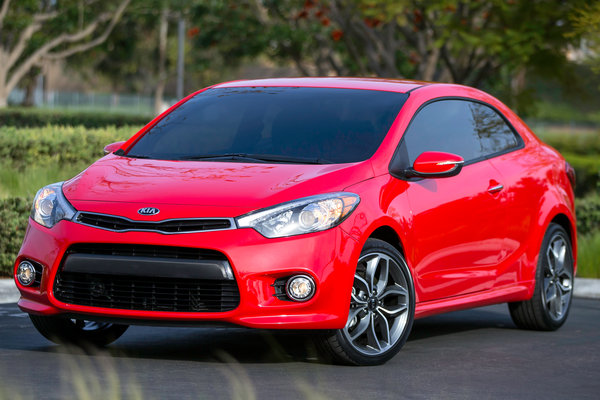 At a Glance
| | |
| --- | --- |
| Pricing | $18,600 - $25,500 |
| Drive Types | FWD |
| Engines | 1.6l I4 T, 2.0l I4 |
| Transmissions | A6, M6 |
Our Ratings
Overview Information
The Kia Forte Koup is an aggressively styled small coupe. The Koup has two doors, seating for five and a traditional trunk rather than a hatchback. In size, the Kia is very close to the Honda Civic coupe. Koup is available in two trim levels: EX and SX. The EX is powered by a 2.0l four cylinder engine rated at 156-bhp. The EX model includes alloy wheels and disc brakes. The SX model equips a more powerful turbocharged 1.6l four cylinder engine rated at 201-bhp and more aggressive wheels and tires. The primary competition for the Forte Koup is the Scion TC and Honda Civic coupe. The Kia enjoys a price advantage over both models. The Forte Koup is a viable alternative in the small car segment.
What Changed:
Like the rest of the Forte lineup, the Koup is all-new for 2014. The second generation model is longer, wider and slightly taller than before. Interior volume and legroom have both improved. Two new engines are offered: a 173-bhp 2.0l four-cylinder (EX), and a more powerful 201-bhp turbocharged 1.6l four cylinder (SX).
Official Word:
- Kia Motors America (KMA) today announced the third and final member of the completely redesigned Forte lineup when it unveiled the sleek and purposeful all-new Forte Koup at the 2013 New York Auto Show. Following the launch of the Forte sedan and Forte 5-door, the all-new two-door Forte Koup SX boasts European-inspired design and performance to match with a 1.6-liter gasoline direct-injected (GDI) turbocharged four-cylinder engine putting out 201 horsepower and 195 lb.-ft. of torque....Read.
| Model/Trim/Package | Engine | | | MPG | VjI | Base Price |
| --- | --- | --- | --- | --- | --- | --- |
| Forte Koup EX | 2.0l I4 (173-bhp) | M6 | FWD | | 59 | $18,600 |
| Forte Koup EX | 2.0l I4 (173-bhp) | A6 | FWD | | 57 | $19,600 |
| Forte Koup EX Premium | 2.0l I4 (173-bhp) | M6 | FWD | | 59 | $20,400 |
| Forte Koup EX Premium | 2.0l I4 (173-bhp) | A6 | FWD | | 57 | $21,400 |
| Forte Koup EX Tech | 2.0l I4 (173-bhp) | A6 | FWD | | 57 | $23,400 |
| Forte Koup SX | 1.6l I4 T (201-bhp) | M6 | FWD | | 66 | $20,600 |
| Forte Koup SX | 1.6l I4 T (201-bhp) | A6 | FWD | | 66 | $21,600 |
| Forte Koup SX Premium | 1.6l I4 T (201-bhp) | M6 | FWD | | 66 | $22,400 |
| Forte Koup SX Premium | 1.6l I4 T (201-bhp) | A6 | FWD | | 66 | $23,400 |
| Forte Koup SX Tech | 1.6l I4 T (201-bhp) | M6 | FWD | | 66 | $24,500 |
| Forte Koup SX Tech | 1.6l I4 T (201-bhp) | A6 | FWD | | 66 | $25,500 |
Comparisons
Reviews
Videos
Model History