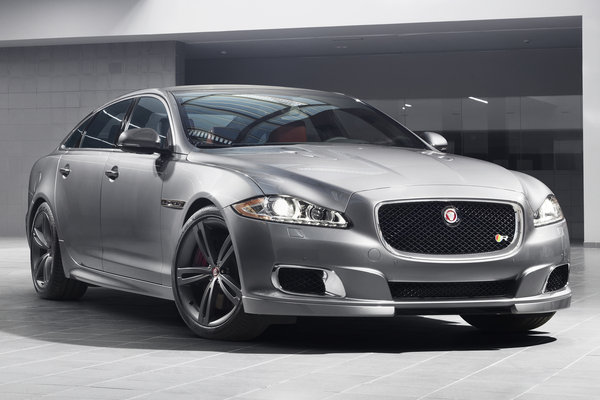 At a Glance
| | |
| --- | --- |
| Pricing | $74,200 - $119,000 |
| Drive Types | RWD, AWD |
| Engines | 3.0l V6 S, 5.0l V8, 5.0l V8 S |
| Transmissions | A8 |
| Fuel Economy | 15-18 (city), 23-27 (highway) |
Our Ratings
Overview Information
The aluminum-bodied XJ is Jaguar's premium sedan. A 5.0L V-8 and 6-speed automatic assure excellent performance. The luxurious interior still features leather and wood veneer, but also includes features that are more contemporary. One example is the virtual instrument cluster rendered on a high-definition display. The XJ offers a 1200W Bowers & Wilkins audio system with 20 speakers. The XJL stretched wheelbase models provides additional rear legroom. The model range also includes a supercharged model for performance enthusiasts.
What Changed:
The top-performance XJR model joins the lineup for 2014. The XJR has a 543-bhp, supercharged V8 under the hood. The XJR model is identified by its unique aerodynamic styling details.
Official Word:
At a glance ◾A new Jaguar flagship sports saloon - the 550PS XJR - combines supercar performance and assertive looks with the high levels of luxury already associated with the XJ range ◾With a 5.0-litre supercharged V8 engine delivering 550PS and 680Nm of torque, the XJR is the most focused, agile and responsive Jaguar XJ ever made ◾The XJR is capable of sprinting from zero to 60mph in 4.4 seconds (0-100km/h in 4.6 seconds) and on...Read.
| Model/Trim/Package | Engine | | | MPG | VjI | Base Price |
| --- | --- | --- | --- | --- | --- | --- |
| XJ | 3.0l V6 S (340-bhp) | A8 | RWD | 18/27/22 | 74 | $74,200 |
| XJ | 3.0l V6 S (340-bhp) | A8 | AWD | 16/24/20 | 71 | $77,700 |
| XJL Portfolio | 5.0l V8 (385-bhp) | A8 | RWD | 15/23/19 | 74 | $81,200 |
| XJL Portfolio | 3.0l V6 S (340-bhp) | A8 | AWD | 16/24/20 | 67 | $84,700 |
| XJ Supercharged | 5.0l V8 S (470-bhp) | A8 | RWD | 15/23/19 | 74 | $90,600 |
| XJL Supercharged | 5.0l V8 S (470-bhp) | A8 | RWD | 15/23/19 | 74 | $93,600 |
| XJ XJR | 5.0l V8 S (550-bhp) | A8 | RWD | 15/23/19 | 74 | $116,000 |
| XJ XJR (LWB) | 5.0l V8 S (550-bhp) | A8 | RWD | 15/23/19 | 74 | $119,000 |
Comparisons
Reviews
Model History