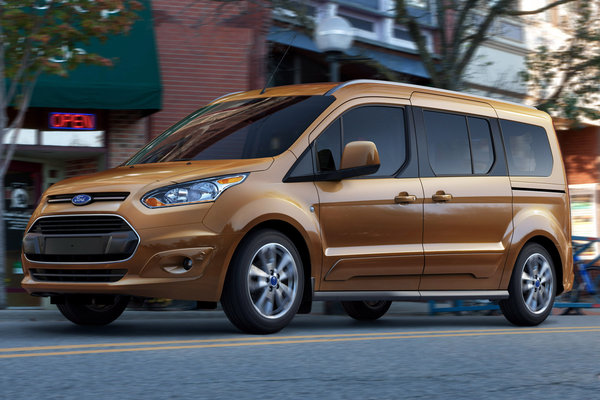 At a Glance
| | |
| --- | --- |
| Pricing | $24,525 - $29,000 |
| Drive Types | FWD |
| Engines | 1.6l I4 T, 2.5l I4 |
| Transmissions | A6 |
| Fuel Economy | 20-22 (city), 28-29 (highway) |
Our Ratings
Overview Information
Ford has been selling the global Transit Connect in the U.S. since 2010. Originally a bare bones vehicle aimed at commercial clients, the redesigned model introduced in 2014 added a seven passenger model more appropriate for families. The model range includes three trim levels and two vehicle lengths. The short wheelbase or 5-passenger models are available in XLT trim level only with a choice of 1.6l and 2.5l four-cylinder engines. The 7-passenger models are available in XL, XLT and Titanium trim levels with the 169-bhp 2.5l four-cylinder as standard equipment. Unlike other minivans, the 7-passenger model is available with either a rear liftgate or a split rear door. The most appealing model for families is the range topping Titanium 7-passenger Transit Connect which includes features like power seats, leather upholstery and alloy wheels.
What Changed:
The Transit Connect is all-new for 2014 and now includes a new 7p model. The 2014 Transit Connect Wagon is offered in two wheelbases bracketing the size of the outgoing model. The shorter wheelbase is a 5-passenger model with two rows of seats. The longer 7-passenger model includes a third row of seating. The overall height of the vehicle is down significantly, but the extra width and length of the 7p model add considerable volume to the interior. Ford will offer a choice of two four-cylinder engines, each mated to a six-speed automatic transmission. Three trim-levels will be offered XL, XLT, and Titanium.
Official Word:
A seven-passenger people mover breaks the 30-mpg barrier with the introduction of the 2014 Ford Transit Connect Wagon. It drives like a car, has the flexibility of a utility and can haul the payload of a full-size pickup truck. The all-new Transit Connect Wagon is offered in two wheelbase lengths, in five- and seven-passenger configurations, and in XL, XLT and Titanium series levels. No other wagon on the market offers the convenience of fold-flat seating, at...Read.
| Model/Trim/Package | Engine | | | MPG | VjI | Base Price |
| --- | --- | --- | --- | --- | --- | --- |
| Transit Connect Wagon XLT (5p) | 2.5l I4 (169-bhp) | A6 | FWD | 20/28/24 | 33 | $24,525 |
| Transit Connect Wagon XLT (5p) | 1.6l I4 T (178-bhp) | A6 | FWD | 22/29/25 | 37 | $25,320 |
| Transit Connect Wagon XL (7p) | 2.5l I4 (169-bhp) | A6 | FWD | 20/28/24 | 33 | $25,000 |
| Transit Connect Wagon XLT (7p) | 2.5l I4 (169-bhp) | A6 | FWD | 20/28/24 | 33 | $26,525 |
| Transit Connect Wagon Titanium (7p) | 2.5l I4 (169-bhp) | A6 | FWD | 20/28/24 | 33 | $29,000 |
Comparisons
Reviews
Videos
Model History