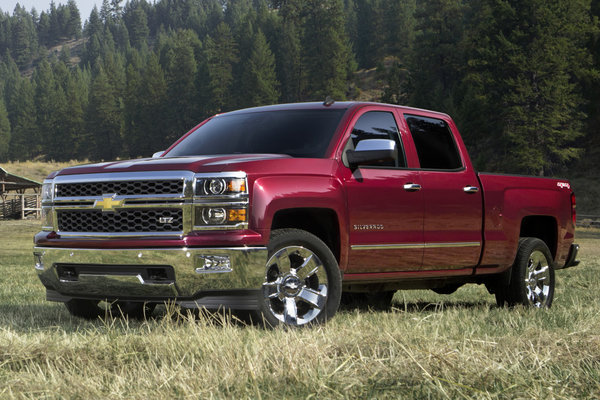 At a Glance
| | |
| --- | --- |
| Pricing | $33,700 - $49,675 |
| Drive Types | RWD, 4WD |
| Engines | 4.3l V6, 5.3l V8, 6.2l V8 |
| Transmissions | A6 |
| Fuel Economy | 14-18 (city), 20-24 (highway) |
Our Ratings
Overview Information
The Silverado is Chevrolet's full-sized truck, which aside from styling and package differences is nearly identical to the GMC Sierra. The Silverado 1500 series encompasses a broad range of cab styles, bed lengths, powertrains, and towing capabilities. Trim levels range from the bare bones Work Truck models with vinyl seats and floors to the well-appointed LTZ. The midrange LT and LTZ models offer most of features truck buyers are looking for. The LT equips cloth seats and the LTZ has leather bucket seats. Powertrain choices are broad ranging from the V6 engine in the base model to a brawny 6.2l V8 for increased towing or bragging rights. Pricing is competitive with other trucks, but bigger engines and options add up quickly. Any truck shopper looking to tow should pay careful attention to the option list to make sure their truck is properly equipped for the job.
What Changed:
GM's full-sized trucks are all-new for 2014. Although the trucks have been restyled they are in large part the same size as their predecessors. Extended cab models now feature four front-hinged doors and crew cab models have a much larger interior. Powertrain choices include a 4.3l V6, 5.3l V8, and a 6.2l V8. Trim levels are largely unchanged, with work truck (WT), LT and LTZ models, but a new High Country trim level is available on Crew Cab models only.
Official Word:
Chevrolet today unveiled the all-new 2014 Silverado 1500 full-size pickup. New from hood to hitch, Silverado is engineered to be the strongest, smartest, and most capable Silverado ever. The new Silverado builds on Chevrolet's 95 years of truck heritage, while raising the bar for full-size pickups. Among the many updates for 2014 are a new trio of powerful, efficient EcoTec3 engines; a stronger, quieter, more comfortable cab; revised steering, suspension and brakes; ingenious solutions for managing...Read.
| Model/Trim/Package | Engine | | | MPG | VjI | Base Price |
| --- | --- | --- | --- | --- | --- | --- |
| Silverado 1500 Crew Cab 1WT | 4.3l V6 (285-bhp) | A6 | RWD | 18/24/21 | 37 | $33,700 |
| Silverado 1500 Crew Cab 1WT | 5.3l V8 (355-bhp) | A6 | RWD | 16/23/19 | 41 | $34,795 |
| Silverado 1500 Crew Cab 2WT | 4.3l V6 (285-bhp) | A6 | RWD | 18/24/21 | 37 | $35,755 |
| Silverado 1500 Crew Cab 2WT | 5.3l V8 (355-bhp) | A6 | RWD | 16/23/19 | 41 | $36,850 |
| Silverado 1500 Crew Cab LT | 4.3l V6 (285-bhp) | A6 | RWD | 18/24/21 | 37 | $36,250 |
| Silverado 1500 Crew Cab LT | 5.3l V8 (355-bhp) | A6 | RWD | 16/23/19 | 41 | $37,345 |
| Silverado 1500 Crew Cab LTZ | 5.3l V8 (355-bhp) | A6 | RWD | 16/23/19 | 41 | $41,220 |
| Silverado 1500 Crew Cab LTZ | 6.2l V8 (420-bhp) | A6 | RWD | | 40 | $43,215 |
| Silverado 1500 Crew Cab High Country | 5.3l V8 (355-bhp) | A6 | RWD | 16/23/19 | 44 | $44,105 |
| Silverado 1500 Crew Cab High Country | 6.2l V8 (420-bhp) | A6 | RWD | | 43 | $46,100 |
| Silverado 1500 Crew Cab 1WT | 4.3l V6 (285-bhp) | A6 | RWD | 18/24/21 | 37 | $34,000 |
| Silverado 1500 Crew Cab 1WT | 5.3l V8 (355-bhp) | A6 | RWD | 16/23/19 | 38 | $35,095 |
| Silverado 1500 Crew Cab 2WT | 4.3l V6 (285-bhp) | A6 | RWD | 18/24/21 | 37 | $36,055 |
| Silverado 1500 Crew Cab 2WT | 5.3l V8 (355-bhp) | A6 | RWD | 16/23/19 | 38 | $37,150 |
| Silverado 1500 Crew Cab LT | 4.3l V6 (285-bhp) | A6 | RWD | 18/24/21 | 37 | $36,550 |
| Silverado 1500 Crew Cab LT | 5.3l V8 (355-bhp) | A6 | RWD | 16/23/19 | 38 | $37,645 |
| Silverado 1500 Crew Cab LTZ | 5.3l V8 (355-bhp) | A6 | RWD | 16/23/19 | 38 | $41,520 |
| Silverado 1500 Crew Cab LTZ | 6.2l V8 (420-bhp) | A6 | RWD | | 40 | $43,515 |
| Silverado 1500 Crew Cab High Country | 5.3l V8 (355-bhp) | A6 | RWD | 16/23/19 | 41 | $44,405 |
| Silverado 1500 Crew Cab High Country | 6.2l V8 (420-bhp) | A6 | RWD | | 43 | $46,400 |
| Silverado 1500 Crew Cab 1WT | 4.3l V6 (285-bhp) | A6 | 4WD | 17/22/19 | 26 | $36,850 |
| Silverado 1500 Crew Cab 1WT | 5.3l V8 (355-bhp) | A6 | 4WD | 16/22/19 | 30 | $37,945 |
| Silverado 1500 Crew Cab 2WT | 4.3l V6 (285-bhp) | A6 | 4WD | 17/22/19 | 26 | $38,905 |
| Silverado 1500 Crew Cab 2WT | 5.3l V8 (355-bhp) | A6 | 4WD | 16/22/19 | 30 | $40,000 |
| Silverado 1500 Crew Cab LT | 4.3l V6 (285-bhp) | A6 | 4WD | 17/22/19 | 26 | $39,825 |
| Silverado 1500 Crew Cab LT | 5.3l V8 (355-bhp) | A6 | 4WD | 16/22/19 | 30 | $40,920 |
| Silverado 1500 Crew Cab LTZ | 5.3l V8 (355-bhp) | A6 | 4WD | 16/22/19 | 30 | $44,370 |
| Silverado 1500 Crew Cab LTZ | 6.2l V8 (420-bhp) | A6 | 4WD | 14/20/17 | 32 | $46,365 |
| Silverado 1500 Crew Cab High Country | 5.3l V8 (355-bhp) | A6 | 4WD | 16/22/19 | 33 | $47,380 |
| Silverado 1500 Crew Cab High Country | 6.2l V8 (420-bhp) | A6 | 4WD | 14/20/17 | 35 | $49,375 |
| Silverado 1500 Crew Cab 1WT | 4.3l V6 (285-bhp) | A6 | 4WD | 17/22/19 | 24 | $37,150 |
| Silverado 1500 Crew Cab 1WT | 5.3l V8 (355-bhp) | A6 | 4WD | 16/22/19 | 28 | $38,245 |
| Silverado 1500 Crew Cab 2WT | 4.3l V6 (285-bhp) | A6 | 4WD | 17/22/19 | 24 | $39,205 |
| Silverado 1500 Crew Cab 2WT | 5.3l V8 (355-bhp) | A6 | 4WD | 16/22/19 | 28 | $40,300 |
| Silverado 1500 Crew Cab LT | 4.3l V6 (285-bhp) | A6 | 4WD | 17/22/19 | 24 | $40,125 |
| Silverado 1500 Crew Cab LT | 5.3l V8 (355-bhp) | A6 | 4WD | 16/22/19 | 28 | $41,220 |
| Silverado 1500 Crew Cab LTZ | 5.3l V8 (355-bhp) | A6 | 4WD | 16/22/19 | 28 | $44,670 |
| Silverado 1500 Crew Cab LTZ | 6.2l V8 (420-bhp) | A6 | 4WD | 14/20/17 | 32 | $46,665 |
| Silverado 1500 Crew Cab High Country | 5.3l V8 (355-bhp) | A6 | 4WD | 16/22/19 | 31 | $47,680 |
| Silverado 1500 Crew Cab High Country | 6.2l V8 (420-bhp) | A6 | 4WD | 14/20/17 | 35 | $49,675 |
Comparisons
Videos
Model History