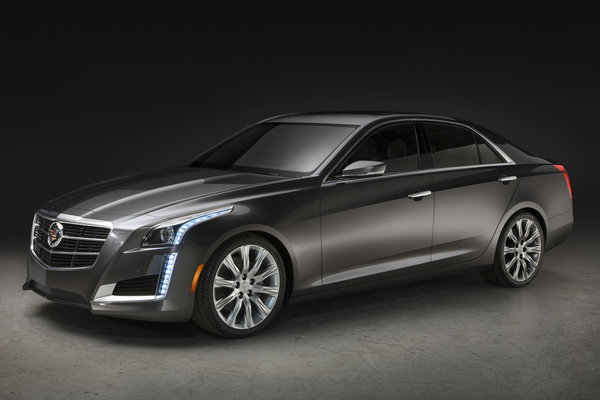 At a Glance
| | |
| --- | --- |
| Pricing | $45,100 - $69,070 |
| Drive Types | RWD, AWD |
| Engines | 2.0l I4 T, 3.6l V6, 3.6l V6 T |
| Transmissions | A6, A8 |
| Fuel Economy | 16-20 (city), 24-30 (highway) |
Our Ratings
Overview Information
The CTS is a mid-sized sport sedan intended to do battle with European imports. Although Cadillac had positioned the CTS as a compact sedan, its larger proportions were more in line with the mid-sized offerings of most luxury automakers. An overhaul for the 2014 model year saw the CTS grow by an additional 5 inches which makes it larger than either the BMW 5-Series or the Mercedes-Benz E-Class. The CTS is offered with three distinct powertrains: a 272-bhp 2.0l turbocharged four cylinder, a 321-bhp 3.6l V6 and a 420-bhp twin-turbo 3.6l V6. The first two are available in a variety of trim levels and are available with optional all-wheel-drive. The 3.6l V6 twin-turbo is exclusively available on the Vsport performance model. Although pricing for the CTS starts under $50,000, most models with leather seating are well over $50,000.
What Changed:
The third generation CTS wears all new styling on a platform that is 1.2 inches longer in wheelbase and 5 inches longer in overall length. Powertrain changes include a new 2.0l four-cylinder engine rated at 272-bhp and a new twin-turbo V6 engine rated at 420-bhp. A 321-bhp normally aspirated V6 is also offered. Some powertrain combinations include a new eight-speed automatic transmission.
Official Word:
Cadillac's all-new 2014 CTS sedan ascends into the heart of the midsize luxury market with expanded performance, elevated luxury and sophisticated technology. The third-generation CTS sedan is based on the high-performing rear-drive architecture of the award-winning ATS sport sedan, moving Cadillac into the prestigious class of midsize luxury sedans. It will be the segment's lightest car, enabling the most agile driving dynamics in the class. A range of power-dense powertrains underpin its performance, including the all-new...Read.
| Model/Trim/Package | Engine | | | MPG | VjI | Base Price |
| --- | --- | --- | --- | --- | --- | --- |
| CTS | 2.0l I4 T (272-bhp) | A6 | RWD | 20/30/24 | 71 | $45,100 |
| CTS | 2.0l I4 T (272-bhp) | A6 | AWD | 19/28/23 | 68 | $47,100 |
| CTS Luxury | 2.0l I4 T (272-bhp) | A6 | RWD | 20/30/24 | 71 | $51,000 |
| CTS Luxury | 2.0l I4 T (272-bhp) | A6 | AWD | 19/28/23 | 68 | $53,000 |
| CTS Performance | 2.0l I4 T (272-bhp) | A6 | RWD | 20/30/24 | 73 | $57,400 |
| CTS Performance | 2.0l I4 T (272-bhp) | A6 | AWD | 19/28/23 | 68 | $59,400 |
| CTS Premium | 2.0l I4 T (272-bhp) | A6 | RWD | 20/30/24 | 73 | $61,800 |
| CTS Premium | 2.0l I4 T (272-bhp) | A6 | AWD | 19/28/23 | 68 | $63,800 |
| CTS Luxury | 3.6l V6 (321-bhp) | A8 | RWD | 18/29/23 | 72 | $53,700 |
| CTS Luxury | 3.6l V6 (321-bhp) | A6 | AWD | 18/26/22 | 66 | $55,700 |
| CTS Performance | 3.6l V6 (321-bhp) | A8 | RWD | 18/29/23 | 72 | $60,100 |
| CTS Performance | 3.6l V6 (321-bhp) | A6 | AWD | 18/26/22 | 68 | $62,100 |
| CTS Premium | 3.6l V6 (321-bhp) | A8 | RWD | 18/29/23 | 72 | $64,500 |
| CTS Premium | 3.6l V6 (321-bhp) | A6 | AWD | 18/26/22 | 68 | $66,500 |
| CTS Vsport | 3.6l V6 T (420-bhp) | A8 | RWD | 16/24/20 | 78 | $59,070 |
| CTS Vsport Premium | 3.6l V6 T (420-bhp) | A8 | RWD | 16/24/20 | 78 | $69,070 |
Comparisons
Reviews
Videos
Model History