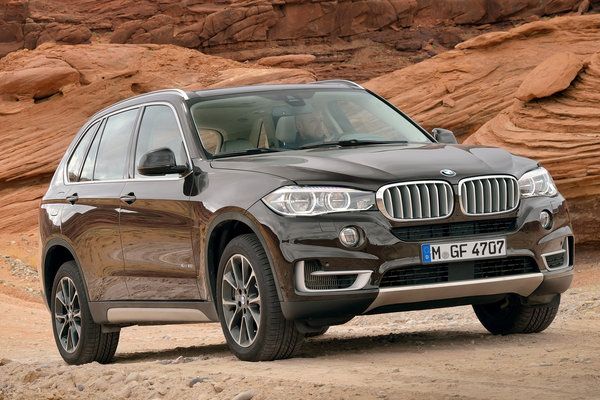 At a Glance
| | |
| --- | --- |
| Pricing | $52,800 - $69,900 |
| Drive Types | RWD, AWD |
| Engines | 3.0l I6 T, 3.0l I6 T D, 4.4l V8 T |
| Transmissions | A8 |
| Fuel Economy | 14-19 (city), 22-27 (highway) |
Our Ratings
Overview Information
Arguably the first SUV that put the emphasis on "Sport", the BMW X5 is now in its third generation. The X5 has grown large enough to add an optional third row seat. Engine choices include a inline-6 gas, inline-6 diesel or V-8. Most models are equipped with xDrive AWD. Safety & handling enhancements include Active Roll Stabilization, Dynamic Traction Control, rearview camera, and Adaptive Drive. The X5 is produced in South Carolina.
What Changed:
The X5 enters its third generation for 2014. While the overall length has increased by two inches, most other dimensions remain largely unchanged. Styling updates are evolutionary. Engine choices include gas and diesel powered inline sixes, and a 445-bhp turbocharged V8.
Official Word:
It isn't often that an automobile manufacturer gets to launch an entirely new vehicle segment, but that's exactly what BMW did in 1999 when it introduced the world's first Sports Activity Vehicle - the BMW X5. Two generations and some 1.3 million vehicles later, the BMW X5 is set to enter its third generation. As its predecessors have done before, the all-new 3rd generation X5 will again set new standards for luxury, versatility and - because...Read.
| Model/Trim/Package | Engine | | | MPG | VjI | Base Price |
| --- | --- | --- | --- | --- | --- | --- |
| X5 sDrive 35i | 3.0l I6 T (300-bhp) | A8 | RWD | 19/27/23 | 51 | $52,800 |
| X5 sDrive 35i leather | 3.0l I6 T (300-bhp) | A8 | RWD | 19/27/23 | 51 | $54,250 |
| X5 sDrive 35i 3rd row | 3.0l I6 T (300-bhp) | A8 | RWD | 19/27/23 | 51 | $55,950 |
| X5 xDrive 35i | 3.0l I6 T (300-bhp) | A8 | AWD | 18/27/22 | 48 | $55,100 |
| X5 xDrive 35i leather | 3.0l I6 T (300-bhp) | A8 | AWD | 18/27/22 | 48 | $56,550 |
| X5 xDrive 35i 3rd row | 3.0l I6 T (300-bhp) | A8 | AWD | 18/27/22 | 48 | $58,250 |
| X5 xDrive35d | 3.0l I6 T D (255-bhp) | A8 | AWD | 19/26/22 | 48 | $56,600 |
| X5 xDrive35d leather | 3.0l I6 T D (255-bhp) | A8 | AWD | 19/26/22 | 48 | $56,600 |
| X5 xDrive35d third row seat | 3.0l I6 T D (255-bhp) | A8 | AWD | 19/26/22 | 48 | $56,600 |
| X5 xDrive 50i | 4.4l V8 T (445-bhp) | A8 | AWD | 14/22/18 | 49 | $68,200 |
| X5 xDrive 50i 3rd row | 4.4l V8 T (445-bhp) | A8 | AWD | 14/22/18 | 49 | $69,900 |
Comparisons
Reviews
Videos
Model History