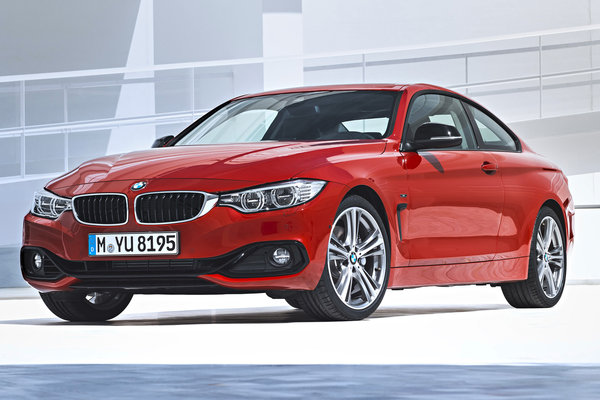 At a Glance
| | |
| --- | --- |
| Pricing | $40,500 - $49,450 |
| Drive Types | RWD, AWD |
| Engines | 2.0l I4 T, 3.0l I6 T |
| Transmissions | A8, M6 |
| Fuel Economy | 20-23 (city), 30-35 (highway) |
Our Ratings
Overview Information
The 4-Series (formerly 3-Series) has long been the standard-bearer in one of the industry's most competitive segments. BMW offers an impressive combination of styling, performance, and luxury features for a German luxury coupe priced from the low forties. Offered in RWD and AWD versions, the 3-Series model range includes multiple models with alphanumeric designations corresponding to their drive train. The 428i equips a turbocharged four-cylinder rated at 240-bhp whereas 435i models include the traditional inline-6 rated at 300-bhp. Most BMW models includes a healthy list of driver aids and available technology, but some common items like heated leather seats require hitting the option list.
What Changed:
The long-running 3-Series coupe becomes the 4-Series with the 2014 model year. The new model is about 2 inches longer, 2 inches wider and an inch shorter in overall height. The track and wheelbase have both increased. Styling changes are subtle: the most visible difference is in the front. Two engines are offered at launch: a 2.0l four-cylinder turbo rated at 240-bhp and a 3.0l turbocharged inline six rated at 300-bhp. Transmission choices include six-speed manuals and eight-speed automatics. Both RWD and AWD (xDrive) are offered.
Official Word:
The all-new BMW 4 Series Coupe marks the beginning of a new era for coupes at BMW. Launched as the latest generation of BMW's sporty mid-size Coupe, the new BMW 4 Series Coupe embodies the very essence of dynamics and aesthetic appeal in the premium segment. The "4" in its title headlines this new product line for the Coupe and emphasizes not only its stand-out design, but that any way you look at it, the new...Read.
| Model/Trim/Package | Engine | | | MPG | VjI | Base Price |
| --- | --- | --- | --- | --- | --- | --- |
| 4-Series coupe 428i | 2.0l I4 T (241-bhp) | M6 | RWD | 22/34/27 | 62 | $40,500 |
| 4-Series coupe 428i | 2.0l I4 T (241-bhp) | A8 | RWD | 23/35/28 | 61 | $40,500 |
| 4-Series coupe 428i leather | 2.0l I4 T (241-bhp) | A8 | RWD | 23/35/28 | 61 | $41,950 |
| 4-Series coupe 428i leather | 2.0l I4 T (241-bhp) | M6 | RWD | 22/34/27 | 62 | $41,950 |
| 4-Series coupe 428i xDrive | 2.0l I4 T (241-bhp) | A8 | AWD | 22/33/27 | 58 | $42,500 |
| 4-Series coupe 428i xDrive leather | 2.0l I4 T (241-bhp) | A8 | AWD | 22/33/27 | 58 | $43,950 |
| 4-Series coupe 435i | 3.0l I6 T (300-bhp) | A8 | RWD | 22/32/26 | 65 | $46,000 |
| 4-Series coupe 435i | 3.0l I6 T (300-bhp) | M6 | RWD | 20/30/24 | 64 | $46,000 |
| 4-Series coupe 435i leather | 3.0l I6 T (300-bhp) | A8 | RWD | 22/32/26 | 65 | $47,450 |
| 4-Series coupe 435i leather | 3.0l I6 T (300-bhp) | M6 | RWD | 20/30/24 | 64 | $47,450 |
| 4-Series coupe 435i xDrive | 3.0l I6 T (300-bhp) | A8 | AWD | 20/30/24 | 62 | $48,000 |
| 4-Series coupe 435i xDrive leather | 3.0l I6 T (300-bhp) | A8 | AWD | 20/30/24 | 62 | $49,450 |
Comparisons
Reviews
Videos
Model History