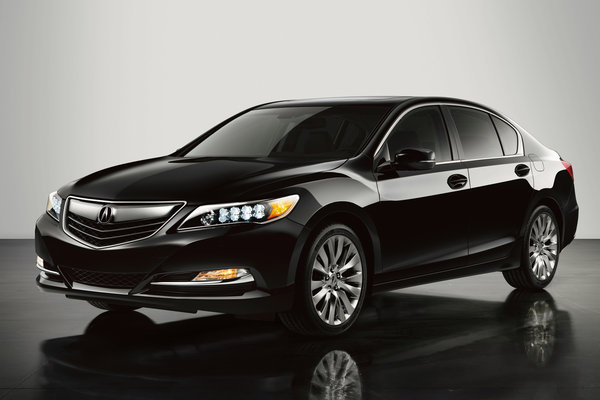 At a Glance
| | |
| --- | --- |
| Pricing | $48,450 - $65,950 |
| Drive Types | FWD, AWD |
| Engines | 3.5l V6, 3.5l V6 HEV |
| Transmissions | A6, SM7 |
| Fuel Economy | 20-28 (city), 31-32 (highway) |
Our Ratings
Overview Information
The RLX is the flagship sedan for the Acura lineup. Replacing the long-running Acura RL, the RLX is a couple of inches bigger and about $10,000 more expensive than the next closest Acura, the TL sedan. Compared to other luxury sedans the RLX is slightly larger than the BMW 5-Series, Audi A6 or Mercedes-Benz E-Class, but significantly smaller than flagship sedans like the BMW 7-Series, Mercedes-Benz S-Class or Lexus LS. The base RLX is front-wheel-drive with a 310-bhp V6 engine under the hood, but the range will include an advanced all-wheel-drive hybrid powertrain similar to that of the next NSX. A new all-wheel-steering system can independently control the left and right rear wheels for enhanced steering control. Pricing starts at just under $50,000.
What Changed:
The RLX becomes the new flagship in the Acura lineup, offering both FWD and AWD models. All RLX models include a 3.5l V6 gas engine rated at 310-bhp under the hood. In AWD models, the engine is paired with an electric motor in a gasoline/electric hybrid configuration. The RLX offers a long list of technological features and options.
Official Word:
The 377-horsepower Acura RLX Sport Hybrid SH-AWD luxury-performance sedan will be on public display for the first time tomorrow at the Los Angeles International Auto Show, showcasing Acura's dynamic new three-motor hybrid system. The 2014 Acura RLX Sport Hybrid SH-AWD, which launches next spring, is the first vehicle to deploy Acura's new three-motor hybrid powertrain technology. The system combines a highly efficient, direct-injected V-6 engine with an all-new, Acura-designed, 7-speed dual clutch transmission with built-in electric...Read.
| Model/Trim/Package | Engine | | | MPG | VjI | Base Price |
| --- | --- | --- | --- | --- | --- | --- |
| RLX | 3.5l V6 (310-bhp) | A6 | FWD | 20/31/25 | 63 | $48,450 |
| RLX Navigation | 3.5l V6 (310-bhp) | A6 | FWD | 20/31/25 | 63 | $50,950 |
| RLX Technology | 3.5l V6 (310-bhp) | A6 | FWD | 20/31/25 | 65 | $54,450 |
| RLX Krell Audio | 3.5l V6 (310-bhp) | A6 | FWD | 20/31/25 | 65 | $56,950 |
| RLX Advance | 3.5l V6 (310-bhp) | A6 | FWD | 20/31/25 | 65 | $60,450 |
| RLX Sport Hybrid Technology | 3.5l V6 HEV (377-bhp) | SM7 | AWD | 28/32/30 | 63 | $59,950 |
| RLX Sport Hybrid Advance | 3.5l V6 HEV (377-bhp) | SM7 | AWD | 28/32/30 | 63 | $65,950 |
Comparisons
Reviews
Videos
Model History