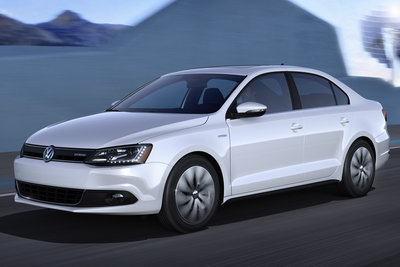 At a Glance
| | |
| --- | --- |
| Pricing | $16,675 - $31,180 |
| Drive Types | FWD |
| Engines | 1.4l I4 HEV T, 2.0l I4, 2.0l I4 T, 2.0l I4 T D, 2.5l I5 |
| Transmissions | A6, A7, M5, M6, SM6 |
| Fuel Economy | 22-42 (city), 29-48 (highway) |
Our Ratings
Overview Information
The Jetta is Volkswagen's compact sedan that competes with top sellers like the Honda Civic and Chevrolet Cruze. Volkswagen offers the Jetta in a range of models from the budget friendly S to the GLI performance model and unique TDI. Like other entry-level models, the Jetta S cuts corners by omitting common features like cruise control and alloy wheels. As you climb the trim levels and options, the Jetta is priced competitively with its Japanese rivals. However, in the higher trim levels, there are roomier midsize cars available at the same price point. The high-performance GLI model equips a turbocharged four-cylinder engine rated at 200-bhp. One unique model in the Jetta range is the Jetta TDI. VW's turbodiesel model is rated at 30 MPG city, 42 MPG highway without the complexity of a hybrid powertrain. With twice the torque, the TDI is going to be more satisfying to drive than a complex hybrid or other high mileage alternative.
What Changed:
The Jetta line gains a hybrid model. The Jetta hybrid pairs a 1.4l turbocharged four cylinder engine with a 20kW electric motor to increase fuel economy by 20-30%.
Official Word:
Following record sales in 2011-the sixth-generation Jetta's first full year on sale in the U.S.-the best-selling model in Volkswagen's line-up receives a number of technology and interior comfort updates for the 2013 model year. Suffice to say, the only German engineered compact sedan just got better. New features and packages for 2013 Starting with the popular 2.5-liter engine models, standard updates to the SE trim include chrome-trimmed interior switches, new decorative metallic trim on the dash...Read.
| Model/Trim/Package | Engine | | | MPG | VjI | Base Price |
| --- | --- | --- | --- | --- | --- | --- |
| Jetta S | 2.0l I4 (115-bhp) | M5 | FWD | 24/34/28 | 47 | $16,675 |
| Jetta S | 2.0l I4 (115-bhp) | A6 | FWD | 23/29/26 | 47 | $17,775 |
| Jetta S Sunroof | 2.0l I4 (115-bhp) | M5 | FWD | 24/34/28 | 47 | $17,825 |
| Jetta S Sunroof | 2.0l I4 (115-bhp) | A6 | FWD | 23/29/26 | 47 | $18,925 |
| Jetta SE | 2.5l I5 (170-bhp) | M5 | FWD | 23/33/28 | 51 | $18,995 |
| Jetta SE | 2.5l I5 (170-bhp) | A6 | FWD | 24/31/27 | 51 | $20,095 |
| Jetta SE Convenience | 2.5l I5 (170-bhp) | M5 | FWD | 23/33/28 | 51 | $20,310 |
| Jetta SE Convenience | 2.5l I5 (170-bhp) | A6 | FWD | 24/31/27 | 51 | $21,410 |
| Jetta SE Convenience,Sunroof | 2.5l I5 (170-bhp) | M5 | FWD | 23/33/28 | 51 | $21,650 |
| Jetta SE Convenience,Sunroof | 2.5l I5 (170-bhp) | A6 | FWD | 24/31/27 | 51 | $22,750 |
| Jetta SEL | 2.5l I5 (170-bhp) | M5 | FWD | 23/33/28 | 54 | $22,895 |
| Jetta SEL | 2.5l I5 (170-bhp) | A6 | FWD | 24/31/27 | 54 | $23,995 |
| Jetta TDI | 2.0l I4 T D (140-bhp) | M6 | FWD | 30/42/35 | 53 | $22,990 |
| Jetta TDI | 2.0l I4 T D (140-bhp) | SM6 | FWD | 30/42/35 | 53 | $24,090 |
| Jetta TDI Premium | 2.0l I4 T D (140-bhp) | M6 | FWD | 30/42/35 | 53 | $22,990 |
| Jetta TDI Premium | 2.0l I4 T D (140-bhp) | SM6 | FWD | 30/42/35 | 53 | $24,090 |
| Jetta TDI Premium, Navi | 2.0l I4 T D (140-bhp) | M6 | FWD | 30/42/35 | 53 | $24,430 |
| Jetta TDI Premium, Navi | 2.0l I4 T D (140-bhp) | SM6 | FWD | 30/42/35 | 53 | $25,530 |
| Jetta GLI | 2.0l I4 T (200-bhp) | M6 | FWD | 22/33/27 | 60 | $23,945 |
| Jetta GLI | 2.0l I4 T (200-bhp) | SM6 | FWD | 24/32/28 | 60 | $25,045 |
| Jetta GLI Autobahn | 2.0l I4 T (200-bhp) | M6 | FWD | 22/33/27 | 62 | $26,195 |
| Jetta GLI Autobahn | 2.0l I4 T (200-bhp) | SM6 | FWD | 24/32/28 | 62 | $27,295 |
| Jetta GLI Autobahn, Navi | 2.0l I4 T (200-bhp) | M6 | FWD | 22/33/27 | 62 | $28,200 |
| Jetta GLI Autobahn, Navi | 2.0l I4 T (200-bhp) | SM6 | FWD | 24/32/28 | 62 | $29,300 |
| Jetta Hybrid | 1.4l I4 HEV T (170-bhp) | A7 | FWD | 42/48/45 | 50 | $24,995 |
| Jetta Hybrid SE | 1.4l I4 HEV T (170-bhp) | A7 | FWD | 42/48/45 | 50 | $26,990 |
| Jetta Hybrid SEL | 1.4l I4 HEV T (170-bhp) | A7 | FWD | 42/48/45 | 53 | $29,325 |
| Jetta Hybrid SEL Premium | 1.4l I4 HEV T (170-bhp) | A7 | FWD | 42/48/45 | 56 | $31,180 |
Comparisons
Videos
Model History