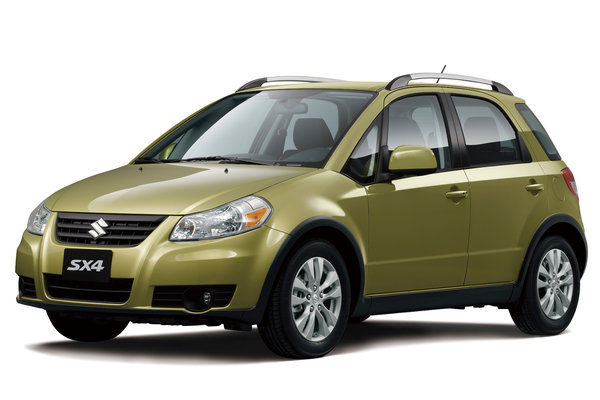 At a Glance
| | |
| --- | --- |
| Pricing | $16,999 - $20,499 |
| Drive Types | FWD, AWD |
| Engines | 2.0l I4 |
| Transmissions | CVT, M6 |
| Fuel Economy | 22-23 (city), 29-30 (highway) |
Overview Information
The subcompact SX4 is marketed as the SX4 Sportback for FWD models, and the SX4 Crossover when equipped with AWD. Both models share the same platform as the SX4 sedan. According to Suzuki, the SX4 name is derived from (S)port (X)-over for (4) seasons. A standard 2.0L inline-4 powers all models. Both six-speed manual and CVT transmissions are offered. The AWD system has a differential lock to enhance traction at low speed on slippery surfaces. The closest vehicles in size to the SX4 Crossover are the Nisan Juke and the Mini Countryman.
What Changed:
The SX4 Crossover wears a new front fascia and wheels.
Official Word:
As Americans increasingly pursue alternate modes of transportation, Suzuki owners and enthusiasts describe Suzuki's SX4 Crossover as one of the purest examples of 'alternative' transport. With 5-door architecture providing both spacious accommodation and flexible utility, and its standard all-wheel drive delivering all-season capability, the SX4 Crossover continues to successfully embrace an automotive duality of day-to-day practicality and weekend recreation. And every Suzuki goes down the road with the backing of America's #1 Warranty(1): a 100,000 miles/seven-year,...Read.
| Model/Trim/Package | Engine | | | MPG | VjI | Base Price |
| --- | --- | --- | --- | --- | --- | --- |
| SX4 Sportback | 2.0l I4 (148-bhp) | CVT | FWD | 23/30/26 | | $18,349 |
| SX4 Crossover | 2.0l I4 (150-bhp) | M6 | AWD | 22/30/26 | | $16,999 |
| SX4 Crossover Premium | 2.0l I4 (148-bhp) | CVT | AWD | 23/29/26 | | $19,175 |
| SX4 Crossover Technology | 2.0l I4 (150-bhp) | M6 | AWD | 23/30/26 | | $19,349 |
| SX4 Crossover Technology | 2.0l I4 (148-bhp) | CVT | AWD | 23/29/26 | | $20,499 |
Comparisons
Reviews
Videos
Model History