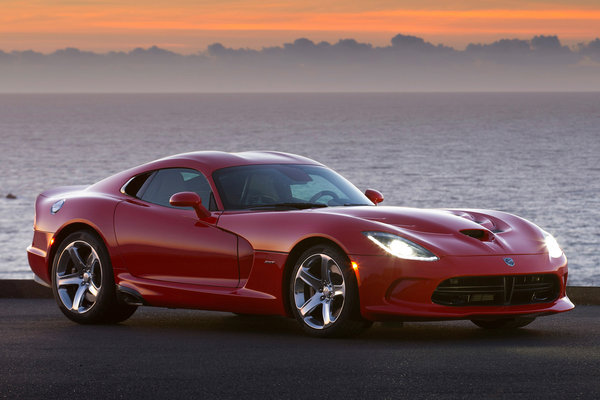 At a Glance
| | |
| --- | --- |
| Pricing | $97,395 - $120,395 |
| Drive Types | RWD |
| Engines | 8.4l V10 |
| Transmissions | M6 |
| Fuel Economy | 12 (city), 19 (highway) |
Our Ratings
Overview Information
The hand-built Viper coupe is a thing of beauty. Although there are other high performance offerings running around, a Viper is guaranteed to turn heads. After a couple of years off, the Viper has returned as an SRT branded model. This rear-wheel-drive, two-passenger coupe has a powerful 8.4l V10 engine producing 640-bhp and 600 lb-ft of torque under the hood. A six-speed manual transmission is the only available transmission. With lots of power and a curb weight of just 3,354 lbs (3,297 with a track package), the Viper equips large 30-series tires (295/30R19 in front, 355/30R19 in the rear) to put the power on the road.
What Changed:
The iconic Viper returns as an SRT branded model. Although the new model is a little wider and taller, it is otherwise nearly identical in size to the previous generation. Power is provided by 8.4l V10 engine rated at 640-bhp. A six-speed manual is the only available transmission. Extensive use of new materials has brought the weight of the Viper down by 50-100 lbs depending on the comparison.
Official Word:
The all-new 2013 SRT Viper makes its long-awaited return to the high-performance sports-car market flush with new technologies and ergonomic improvements while respecting its legacy of American craftsmanship and visceral performance. "The Street and Racing Technology brand team is extremely proud that our hand-built-in-Detroit, flagship supercar is back and ready to take on the performance-car world," said Ralph Gilles, President and CEO - Street and Racing Technology Brand and Motorsports, Chrysler Group LLC. "Beyond being the...Read.
| Model/Trim/Package | Engine | | | MPG | VjI | Base Price |
| --- | --- | --- | --- | --- | --- | --- |
| Viper SRT Track | 8.4l V10 (640-bhp) | M6 | RWD | 12/19/15 | 87 | TBD |
| Viper | 8.4l V10 (640-bhp) | M6 | RWD | 12/19/15 | 87 | $97,395 |
| Viper GTS SRT Track | 8.4l V10 (640-bhp) | M6 | RWD | 12/19/15 | 87 | TBD |
| Viper GTS | 8.4l V10 (640-bhp) | M6 | RWD | 12/19/15 | 83 | $120,395 |
Comparisons
Reviews
Videos
Model History