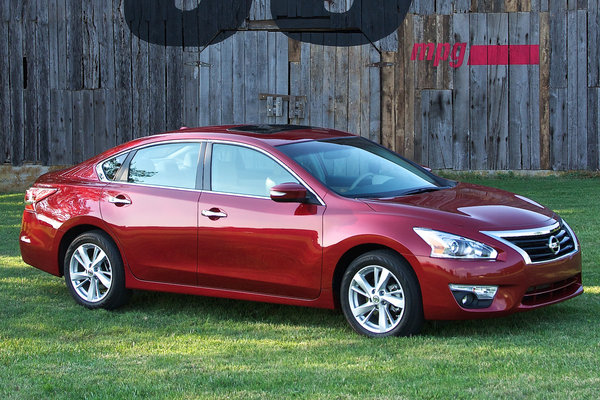 At a Glance
| | |
| --- | --- |
| Pricing | $21,760 - $30,560 |
| Drive Types | FWD |
| Engines | 2.5l I4, 3.5l V6 |
| Transmissions | CVT |
| Fuel Economy | 22-27 (city), 31-38 (highway) |
Our Ratings
Overview Information
The Nissan Altima is a front-wheel-drive, midsized sedan similar in size to the Toyota Camry. Nissan also sells the similarly sized Maxima, but that car is aimed at the entry-luxury segment and is significantly more expensive. The Altima is generally available in S, SV an SL levels with either a 2.5l four-cylinder engine, or 3.5l V6 engine. All Altimas equip a continuously variable transmission (CVT) for improved fuel economy which is unusual in this segment.
What Changed:
An all-new Altima bows for 2013. The new model is about 1 inch longer and 2 inches wider than the prior model. Although the new styling has some familiar lines, the overall look is very different with higher sides, an aggressive new grille and more steeply sloped front and rear windows. The Altima retains its two powertrain lineup, but power in the 2.5l four-cylinder engine has increased to 182-bhp. Nissan estimates highway mileage of 38 MPG for the four-cylinder.
Official Word:
When it comes to the innovations and advanced technology behind the ground-up, totally new 2013 Nissan Altima design, some things might be considered evolutionary. Take the body, the engines, transmission, suspension, steering, seats, the instrument panel, navigation system, music connection, armrest, windshield wipers, and tire pressure monitoring system. The previous generation Altima had them. This generation does too. Not a big deal. Until you take a little closer look. Call it evolution on the edge. Or...Read.
| Model/Trim/Package | Engine | | | MPG | VjI | Base Price |
| --- | --- | --- | --- | --- | --- | --- |
| Altima 2.5 | 2.5l I4 (182-bhp) | CVT | FWD | 27/38/32 | 59 | $21,760 |
| Altima 2.5 S | 2.5l I4 (182-bhp) | CVT | FWD | 27/38/32 | 57 | $22,860 |
| Altima 2.5 SV | 2.5l I4 (182-bhp) | CVT | FWD | 27/38/32 | 57 | $24,460 |
| Altima 2.5 SL | 2.5l I4 (182-bhp) | CVT | FWD | 27/38/32 | 57 | $27,660 |
| Altima 3.5 S | 3.5l V6 (270-bhp) | CVT | FWD | 22/31/26 | 68 | $25,760 |
| Altima 3.5 SV | 3.5l V6 (270-bhp) | CVT | FWD | 22/31/26 | 68 | $28,260 |
| Altima 3.5 SL | 3.5l V6 (270-bhp) | CVT | FWD | 22/31/26 | 68 | $30,560 |
Comparisons
Reviews
Videos
Model History