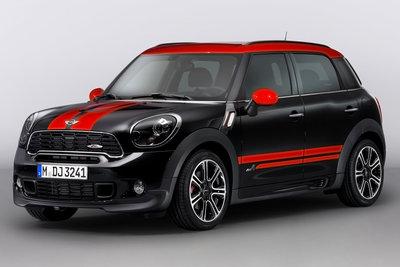 At a Glance
| | |
| --- | --- |
| Pricing | $22,000 - $36,100 |
| Drive Types | FWD, AWD |
| Engines | 1.6l I4, 1.6l I4 T |
| Transmissions | A6, M6 |
| Fuel Economy | 23-27 (city), 30-35 (highway) |
Our Ratings
Overview Information
The Mini Countryman is Mini's take on a crossover SUV. The Countryman is several inches longer, wider, and taller than the Cooper hardtop. The Countryman has four full-sized doors. On the inside, there is seating for four and the rear seat backs can fold to expand the cargo area. Most Mini variants share the same powertrain and model structure. The base Cooper model is powered by a 121-bhp, 1.6l four-cylinder engine mated to either a six-speed manual or six-speed automatic. Power in the turbocharged Cooper S increases to 181-bhp. An all-wheel-drive system (called ALL 4) is only available on the top model. All models share a long list of standard equipment that includes four-wheel disc brakes, common power equipment and alloy wheels for around $23,000. Mini offers numerous customization options which extend beyond option packages to mixed exterior /interior color combinations and decals. Through this unique personalization it is possible to add thousands to the sticker price. Although the Countryman offers the style, configurability and charm of other Mini models, the somewhat high cost of this all-wheel-drive model prices it above other strong selling crossover vehicles.
What Changed:
The Countryman gains a John Cooper Works performance model. This model has 211 horsepower and all-wheel-drive.
Official Word:
In the two years since its launch onto the world's car markets, the MINI Countryman has developed into a driving force behind the continuing growth of the brand. The transference of hallmark MINI qualities and values into a new vehicle segment has won over new target groups worldwide to the brand's unmistakable style. Autumn 2012 will see the British carmaker's first model to offer all-wheel drive benefiting from an extensive round of modifications which will further...Read.
| Model/Trim/Package | Engine | | | MPG | VjI | Base Price |
| --- | --- | --- | --- | --- | --- | --- |
| Countryman Cooper | 1.6l I4 (121-bhp) | M6 | FWD | 27/35/31 | 47 | $22,000 |
| Countryman Cooper | 1.6l I4 (121-bhp) | A6 | FWD | 25/30/27 | 47 | $23,250 |
| Countryman Cooper S | 1.6l I4 T (181-bhp) | M6 | FWD | 26/32/29 | 53 | $25,600 |
| Countryman Cooper S | 1.6l I4 T (181-bhp) | A6 | FWD | 25/32/28 | 51 | $26,850 |
| Countryman Cooper S ALL4 | 1.6l I4 T (181-bhp) | M6 | AWD | 25/31/28 | 51 | $27,300 |
| Countryman Cooper S ALL4 | 1.6l I4 T (181-bhp) | A6 | AWD | 23/30/26 | 51 | $28,550 |
| Countryman John Cooper Works ALL4 | 1.6l I4 T (208-bhp) | M6 | AWD | 25/31/28 | 58 | $34,850 |
| Countryman John Cooper Works ALL4 | 1.6l I4 T (208-bhp) | A6 | AWD | 23/30/26 | 58 | $36,100 |
Comparisons
Reviews
Videos
Model History