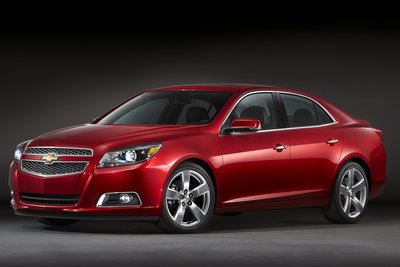 At a Glance
| | |
| --- | --- |
| Pricing | $22,390 - $29,930 |
| Drive Types | FWD |
| Engines | 2.0l I4 T, 2.4l I4 HEV, 2.5l I4 |
| Transmissions | A6 |
| Fuel Economy | 21-25 (city), 30-37 (highway) |
Our Ratings
Overview Information
Chevrolet offers a range of sedans from the small Sonic to the large Impala. The Malibu offers a little more legroom and power than the Cruze. The Malibu LS, LT and LTZ include a 2.5l four-cylinder engine mated to a six-speed automatic. The Malibu Eco features a more fuel-efficient hybrid powertrain that pairs a 2.4l four-cylinder engine with a 15kW electric motor. General Motors is staggering the release of the Malibu selling the Eco model alongside the prior-generation 2012 models. The LS, LT and LTZ models will be available later in the model year.
What Changed:
Malibu is all-new for the 2013 model year. Although the overall length is roughly the same, the new model is 2.5 inches wider and has a 4.5-inch shorter wheelbase. The first model on sale is the Malibu Eco with a 2.4l four-cylinder gasoline and 15kW electric motor hybrid powertrain. The Malibu LS, LT, and LTZ models follow and are powered by a 2.5l four-cylinder gas engine. From the a-pillar forward, the Malibu retains many of the same lines. The aggressively styled rear end has more pronounced fenders and four square taillights. The interior loses the two cockpit look in favor of a more subtle two-tone dash and less prominent center stack.
Official Word:
The all-new 2013 Malibu is Chevrolet's first global midsize sedan designed and engineered to provide customers from Shanghai to New York and Sydney to Sao Paulo with expressive design, advanced technologies, ride performance and fuel-efficient powertrains. It will eventually be sold in nearly 100 countries on six continents. In North America, the Malibu comes in LS, LT and LTZ trim levels, along with the Malibu Eco, which uses fuel-saving eAssist (TM) technology to enable EPA-estimated fuel...Read.
| Model/Trim/Package | Engine | | | MPG | VjI | Base Price |
| --- | --- | --- | --- | --- | --- | --- |
| Malibu LS | 2.5l I4 (197-bhp) | A6 | FWD | 22/34/27 | 58 | $22,390 |
| Malibu 1LT | 2.5l I4 (197-bhp) | A6 | FWD | 22/34/27 | 54 | $24,005 |
| Malibu 2LT | 2.5l I4 (197-bhp) | A6 | FWD | 22/34/27 | 54 | $25,240 |
| Malibu 1LTZ | 2.5l I4 (197-bhp) | A6 | FWD | 22/34/27 | 57 | $27,830 |
| Malibu ECO w/ eAssist 1SA | 2.4l I4 HEV (182-bhp) | A6 | FWD | 25/37/30 | 54 | $25,235 |
| Malibu ECO w/ eAssist 2SA | 2.4l I4 HEV (182-bhp) | A6 | FWD | 25/37/30 | 54 | $26,845 |
| Malibu ECO w/ eAssist 2SA, Leather | 2.4l I4 HEV (182-bhp) | A6 | FWD | 25/37/30 | 54 | $27,845 |
| Malibu LT | 2.0l I4 T (259-bhp) | A6 | FWD | 21/30/25 | 63 | $26,715 |
| Malibu LTZ | 2.0l I4 T (259-bhp) | A6 | FWD | 21/30/25 | 61 | $29,930 |
Comparisons
Videos
Model History