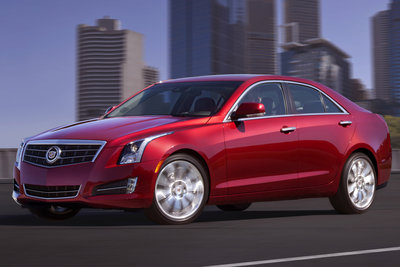 At a Glance
| | |
| --- | --- |
| Pricing | $33,095 - $47,795 |
| Drive Types | RWD, AWD |
| Engines | 2.0l I4 T, 2.5l I4, 3.6l V6 |
| Transmissions | A6, M6 |
| Fuel Economy | 18-22 (city), 26-33 (highway) |
Overview Information
The Cadillac ATS is the smallest sedan in the lineup. The smaller proportions of the ATS are almost identical to the BMW 3-Series, leaving the significantly larger CTS as an alternative to mid-sized luxury offerings. The ATS is offered with three different engines, in both rear-wheel-drive and all-wheel-drive models. With an available six-speed manual transmission, the ATS is clearly aimed at its segment rivals. Like other Cadillac models, the ATS is offered in a range of trim level packages including, Luxury, Performance, and Premium. With prices ranging from $34,000 to almost $50,000, the ATS is priced competitively with its German rivals.
What Changed:
The all-new ATS is a small rear-wheel-drive intended to compete with compact luxury models like the BMW 3-Series and Infiniti G sedan. The ATS is offered with a variety of powertrain options including a turbocharged four cylinder, large-displacement four-cylinder and a V6. All-wheel-drive will be optional on some models.
Official Word:
The all-new 2013 Cadillac ATS compact luxury sports sedan is the brand's entry into the world's most significant luxury car segment and is designed to challenge the world's best premium cars. Its sophisticated driving experience is enhanced with Cadillac CUE, a comprehensive, in-vehicle user experience that merges intuitive design with industry-first controls and commands for information and media data. Developed on an all-new, lightweight rear-drive architecture, the ATS reflects a new expression of Cadillac's Art &...Read.
| Model/Trim/Package | Engine | | | MPG | VjI | Base Price |
| --- | --- | --- | --- | --- | --- | --- |
| ATS Standard | 2.5l I4 (202-bhp) | A6 | RWD | 22/33/27 | | $33,095 |
| ATS Luxury | 2.5l I4 (202-bhp) | A6 | RWD | 22/33/27 | | $37,590 |
| ATS Standard | 2.0l I4 T (272-bhp) | M6 | RWD | 19/30/24 | | $33,720 |
| ATS Standard | 2.0l I4 T (272-bhp) | A6 | RWD | 21/31/26 | | $34,900 |
| ATS Standard | 2.0l I4 T (272-bhp) | A6 | AWD | 20/30/24 | | $36,900 |
| ATS Luxury | 2.0l I4 T (272-bhp) | M6 | RWD | 19/30/24 | | $38,215 |
| ATS Luxury | 2.0l I4 T (272-bhp) | A6 | RWD | 21/31/26 | | $39,395 |
| ATS Luxury | 2.0l I4 T (272-bhp) | A6 | AWD | 20/30/24 | | $41,395 |
| ATS Performance | 2.0l I4 T (272-bhp) | M6 | RWD | 19/30/24 | | $40,715 |
| ATS Performance | 2.0l I4 T (272-bhp) | A6 | RWD | 21/31/26 | | $41,895 |
| ATS Performance | 2.0l I4 T (272-bhp) | A6 | AWD | 20/30/24 | | $43,895 |
| ATS Premium | 2.0l I4 T (272-bhp) | M6 | RWD | 19/30/24 | | $43,715 |
| ATS Premium | 2.0l I4 T (272-bhp) | A6 | RWD | 21/31/26 | | $44,895 |
| ATS Premium | 2.0l I4 T (272-bhp) | A6 | AWD | 20/30/24 | | $45,995 |
| ATS Luxury | 3.6l V6 (321-bhp) | A6 | RWD | 19/28/23 | | $41,195 |
| ATS Luxury | 3.6l V6 (321-bhp) | A6 | AWD | 18/26/22 | | $43,195 |
| ATS Performance | 3.6l V6 (321-bhp) | A6 | RWD | 19/28/23 | | $43,695 |
| ATS Performance | 3.6l V6 (321-bhp) | A6 | AWD | 18/26/22 | | $45,695 |
| ATS Premium | 3.6l V6 (321-bhp) | A6 | RWD | 19/28/23 | | $46,695 |
| ATS Premium | 3.6l V6 (321-bhp) | A6 | AWD | 18/26/22 | | $47,795 |
Comparisons
Reviews
Model History