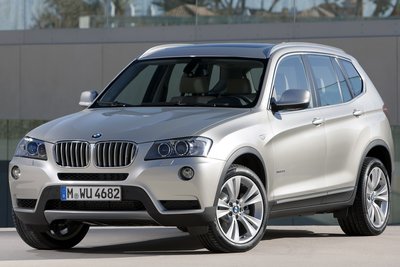 At a Glance
| | |
| --- | --- |
| Pricing | $38,500 - $45,050 |
| Drive Types | AWD |
| Engines | 2.0l I6 T, 3.0l I6 T |
| Transmissions | A8 |
| Fuel Economy | 19-21 (city), 26-28 (highway) |
Our Ratings
Overview Information
The BMW X3 is a smaller five passenger SUV/Crossover that competes with models like the Audi Q5 and Cadillac SRX. The second-generation X3 which arrived in the 2011 model year is larger and more luxurious than the original X3. Two model designations indicate the equipped powertrain. The X3 xDrive 28i equips a 240-bhp turbocharged four-cylinder engine and all-wheel-drive. The X3 xDrive 35i equips a 300-bhp turbocharged inline six-cylinder engine and all-wheel-drive. The X3 has a base price around $39,000 which does not include leather seating. Like other BMW models, the X3 requires a number of option packages to add common equipment and the price can quickly escalate. The X3 is produced in South Carolina.
What Changed:
A 2.0l turbocharged four-cylinder engine replaces the six-cylinder in the xDrive 28i model.
Official Word:
This first generation BMW X3 became a bestseller in the BMW line, both in the United States and in Europe. Through its lifecycle, over 600,000 original X3s were sold worldwide, with 150,000 sold in the US. Meanwhile, several other players have entered the now hotly-contested segment. The second generation BMW X3 introduced last year builds on the success of the original by developing its core competencies and adding new technology. It will re-establish the benchmarks for...Read.
| Model/Trim/Package | Engine | | | MPG | VjI | Base Price |
| --- | --- | --- | --- | --- | --- | --- |
| X3 xDrive 28i | 2.0l I6 T (240-bhp) | A8 | AWD | 21/28/24 | 46 | $38,500 |
| X3 xDrive 28i Leather | 2.0l I6 T (240-bhp) | A8 | AWD | 21/28/24 | 46 | $39,950 |
| X3 xDrive 35i | 3.0l I6 T (300-bhp) | A8 | AWD | 19/26/22 | 53 | $43,600 |
| X3 xDrive 35i Leather | 3.0l I6 T (300-bhp) | A8 | AWD | 19/26/22 | 53 | $45,050 |
Comparisons
Reviews
Videos
Model History