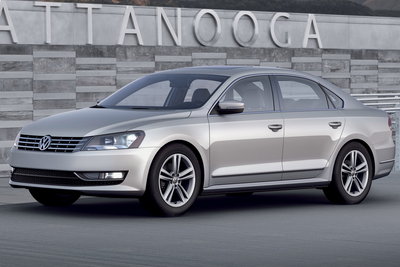 At a Glance
| | |
| --- | --- |
| Pricing | $19,995 - $32,950 |
| Drive Types | FWD |
| Engines | 2.0l I4 T D, 2.5l I5, 3.6l V6 |
| Transmissions | A6, M6, SM6 |
| Fuel Economy | 20-31 (city), 28-43 (highway) |
Overview Information
The long-running Passat is Volkswagen's midsized sedan. In 2012, Volkswagen developed an all-new Passat for the North American market that is larger than the model sold around the world. This mirrors the strategy employed by Honda with the Accord and Toyota with the Camry. The increased length and width have created one of the roomiest rear seats in the segment. Most Passat models are powered by Volkswagen's unusual 2.5-liter inline five-cylinder engine. Other choices include a more powerful 3.6l V6 engine in top-end models and a version of VW's 2.0l turbo diesel. The Passat TDI is rated by the EPA at an impressive 31/43 (city/highway). This is exceptional mileage for the class without the complexity of a hybrid powertrain. The only downside is price. A Passat with leather seats tops $30,000 which is thousands higher than others in the segment. The Passat is assembled in Chattanooga, TN.
What Changed:
The Passat is all-new for 2012. Compared to the prior model it is about 4 inches longer in wheelbase and overall length. It is about 1 inch wider. The larger proportions allow for a more spacious back seat. Volkswagen is planning three engines for the Passat: a 2.5l inline five-cylinder, a 2.0l turbo diesel four-cylinder, and a 3.6l V6. Three trim levels will be offered S, SE, and SEL.
Official Word:
The all-new 2012 Volkswagen Passat has created a new, sky-high standard in the mid-size luxury sedan class. Here is a mid-size sedan with the space and comfort of many full-size models, offering remarkable, best-in-class, stretch-out rear-seat legroom and trunk space to match. The Passat TDI version-the only clean diesel option in the segment-delivers an estimated 43 miles per gallon on the highway with the manual transmission, with a range of almost 800 miles. That's New York...Read.
| Model/Trim/Package | Engine | | | MPG | VjI | Base Price |
| --- | --- | --- | --- | --- | --- | --- |
| Passat S | 2.5l I5 (170-bhp) | M6 | FWD | 22/32/26 | | $19,995 |
| Passat S | 2.5l I5 (170-bhp) | A6 | FWD | 22/31/26 | | $22,690 |
| Passat SE | 2.5l I5 (170-bhp) | M6 | FWD | 22/32/26 | | $23,725 |
| Passat SE | 2.5l I5 (170-bhp) | A6 | FWD | 22/31/26 | | $24,825 |
| Passat SEL | 2.5l I5 (170-bhp) | A6 | FWD | 22/31/26 | | $28,395 |
| Passat SEL Premium | 2.5l I5 (170-bhp) | A6 | FWD | 22/31/26 | | $29,895 |
| Passat TDI SE | 2.0l I4 T D (140-bhp) | M6 | FWD | 31/43/36 | | $25,995 |
| Passat TDI SE | 2.0l I4 T D (140-bhp) | SM6 | FWD | 31/43/36 | | $27,895 |
| Passat TDI SEL | 2.0l I4 T D (140-bhp) | SM6 | FWD | 31/43/36 | | $32,195 |
| Passat SE | 3.6l V6 (280-bhp) | SM6 | FWD | 20/28/24 | | $28,995 |
| Passat SEL Premium | 3.6l V6 (280-bhp) | SM6 | FWD | 20/28/24 | | $32,950 |
Comparisons
Videos
Model History