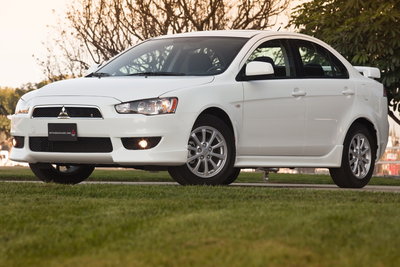 At a Glance
| | |
| --- | --- |
| Pricing | $15,695 - $31,345 |
| Drive Types | FWD, AWD |
| Engines | 2.0l I4, 2.0l I4 T, 2.4l I4 |
| Transmissions | CVT, M5, SM6 |
| Fuel Economy | 18-26 (city), 25-34 (highway) |
Overview Information
The Lancer is Mitsubishi's entry-level model and their answer to the Honda Civic, Mazda Mazda3, Subaru Impreza, and Toyota Corolla. The latest generation of the Lancer debuted in 2008 as a 2009 model with larger proportions and more aggressive styling. Thanks to the Lancer Evolution, all Lancers are solidly constructed cars with a more substantial feel than the Japanese competition. A 148-bhp 2.0L inline-4 powers the DE and ES models, whereas the SE and GT equip the upgraded 2.4L engine. All-wheel-drive is offered on the SE model. The GT includes 18-inch wheels, front air dam, rear spoiler, sport suspension, and bigger disc brakes. A Lancer Ralliart model bridges the gap between the Lancer and the Lancer Evolution. With a 237-bhp turbo and all-wheel-drive, the Ralliart is an alternative to the Subaru Impreza WRX but at a stiff price premium. An optional 650-watt Rockford Fosgate audio system includes nine speakers and a subwoofer.
What Changed:
A new all-wheel-drive SE model slots between the ES and the GT (formerly GTS) in the lineup.
Official Word:
With its combination of polished good looks, noteworthy handling and its broad tally of included features and amenities, the Mitsubishi Lancer sport sedan is, dollar for dollar, easily one of the most appealing vehicles in its highly competitive category. But this attractive and refined compact sports sedan further sets itself apart from its competitors for the new model year thanks to new features that improve the vehicle's fuel-efficiency and fun factor. All four versions of the...Read.
| Model/Trim/Package | Engine | | | MPG | VjI | Base Price |
| --- | --- | --- | --- | --- | --- | --- |
| Lancer DE | 2.0l I4 (148-bhp) | M5 | FWD | 25/34/29 | | $15,695 |
| Lancer ES | 2.0l I4 (148-bhp) | M5 | FWD | 25/34/29 | | $16,995 |
| Lancer ES | 2.0l I4 (148-bhp) | CVT | FWD | 26/34/30 | | $17,895 |
| Lancer ES Alloy Wheel | 2.0l I4 (148-bhp) | CVT | FWD | 26/34/30 | | $18,395 |
| Lancer SE | 2.4l I4 (168-bhp) | CVT | AWD | 22/29/25 | | $20,195 |
| Lancer GT | 2.4l I4 (168-bhp) | M5 | FWD | 22/31/26 | | $19,845 |
| Lancer GT | 2.4l I4 (168-bhp) | CVT | FWD | 23/30/26 | | $20,845 |
| Lancer GT Touring | 2.4l I4 (168-bhp) | CVT | FWD | 23/30/26 | | $24,395 |
| Lancer Ralliart | 2.0l I4 T (237-bhp) | SM6 | AWD | 18/25/21 | | $27,995 |
| Lancer Ralliart Touring | 2.0l I4 T (237-bhp) | SM6 | AWD | 18/25/21 | | $31,345 |
Comparisons
Reviews
Videos
Model History