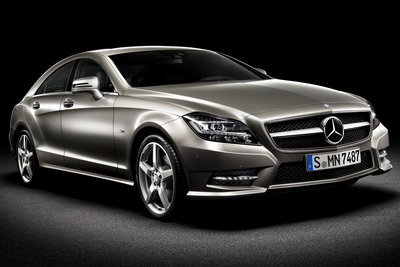 At a Glance
| | |
| --- | --- |
| Pricing | $71,300 - $94,900 |
| Drive Types | RWD, AWD |
| Engines | 4.7l V8 T, 5.5l V8 T |
| Transmissions | A7, SM7 |
| Fuel Economy | 16-17 (city), 25 (highway) |
Overview Information
The CLS-Class is a mid-sized car with four full side doors and seating for four passengers. The CLS is a stylish and pricey alternative to the conservatively styled E-Class sedan upon which it is based. Mercedes refers to the CLS as a coupe due to its four passenger seating and sleek styling. The model range includes the V8 powered CLS550 and the high-performance CLS63 AMG model. Both models include seven-speed automatic transmissions and rear-wheel-drive, although the CLS550 is offered with an optional all-wheel-drive setup (CLS550 4MATIC). Recent Mercedes-Benz models have touted high output engines and the latest engines in the CLS are no exception. The standard 4.7l V8 (CLS550) is rated at 402-bhp and the optional 5.5l V8 (CLS63 AMG) produces an impressive 518-bhp. There is a long list of standard and optional features befitting a luxury car. With a base price exceeding $71,000, the CLS is aimed a well-heeled niche.
What Changed:
The second generation CLS-Class debuted for the 2012 model year. The new CLS retains the overall sleek profile, but wears harder styling lines and a more upright grille. In terms of size, the new model is slightly longer (.9 inches) and wider (.4 inches). Under the hood, the CLS offers two new engines. The CLS550 is powered by a 4.7-liter V8 engine rated at 402-bhp, whereas the CLS63 AMG utilizes a 5.5-liter V8 rated at 518-bhp. Even though both engines are smaller in displacement, they are more powerful and fuel efficient. The CLS550 has a 7-speed automatic and the CLS63 includes a dual-clutch 7-speed automatic.
Official Word:
The all-new CLS-Class coupe represents the first major redesign of a car that established an entirely new market segment - the four-door coupe, which combines the emotional appeal and dynamic design of a coupe with the comfort and functionality of a sedan. The 2012 CLS line consists of three exciting models, all powered by new biturbo direct-injection V8 engines and, for the first time, offers 4MATIC all-wheel-drive. MSRP's start at $71,300 for the CLS550, $73,800 for...Read.
| Model/Trim/Package | Engine | | | MPG | VjI | Base Price |
| --- | --- | --- | --- | --- | --- | --- |
| CLS-Class CLS550 | 4.7l V8 T (402-bhp) | A7 | RWD | 17/25/21 | | $71,300 |
| CLS-Class CLS550 4MATIC | 4.7l V8 T (402-bhp) | A7 | AWD | 16/25/20 | | $73,800 |
| CLS-Class CLS63 AMG | 5.5l V8 T (518-bhp) | SM7 | RWD | 16/25/20 | | $94,900 |
Comparisons
Reviews
Videos
Model History