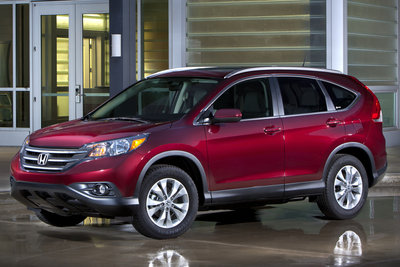 At a Glance
| | |
| --- | --- |
| Pricing | $22,495 - $29,995 |
| Drive Types | FWD, AWD |
| Engines | 2.4l I4 |
| Transmissions | A5 |
| Fuel Economy | 22-23 (city), 30-31 (highway) |
Overview Information
The CR-V which is in its fourth generation still serves as a benchmark for the segment it helped define. This compact SUV seats five passengers with the comfort of a mid-sized sedan. A cavernous cargo area measures 37 cubic feet with the rear seat up. At just 178 inches in length, the CR-V is almost a foot shorter than your typical family sedan making it easier to get around town and park. The only available engine is a 2.4l four-cylinder engine is rated at 185-bhp. Some competitive vehicles offer V6 power in this segment foregoing fuel economy for power. Fuel economy for the CR-V is a competitive 23/31 on FWD models, but the CR-V is somewhat limited by a five-speed transmission in a market where six-speed units are becoming the norm. Three trim levels are offered: LX, EX and EX-L. The LX model is well-equipped with common power equipment, cloth seats and steel wheels. The upgraded EX model includes upgraded cloth seats and a sunroof. The top EX-L model includes leather heated leather seats, dual zone climate control and a 328-watt audio system for about $28,000 (FWD).
What Changed:
The fourth generation CR-V wears all-new styling. The 2.4l four-cylinder engine is rated at 185-bhp and fuel economy has increased to 22/30 (AWD) and 23/31 (FWD). Although the new model is slightly shorter in length and height, legroom and passenger volume are largely unchanged. Cargo carrying capacity has increased slightly to 37.2 cu. ft.
Official Word:
-- The all-new, the fourth-generation HondaCR-V debuted today at the Los Angeles Auto Show. The 2012 CR-V introduces an upscale styling direction, greater fuel efficiency, and added features and functionality. The CR-V will go on-sale at Honda dealerships nationwide on December 15th. With the previous-generation CR-V recognized as a "Top Recommended Vehicle" and having the "Best Retained Value SUV under $25,000" by Edmunds.com, and named top compact crossover SUV in dependability by J.D. Power and Associates,...Read.
| Model/Trim/Package | Engine | | | MPG | VjI | Base Price |
| --- | --- | --- | --- | --- | --- | --- |
| CR-V LX | 2.4l I4 (185-bhp) | A5 | FWD | 23/31/27 | | $22,495 |
| CR-V LX | 2.4l I4 (185-bhp) | A5 | AWD | 22/30/26 | | $23,745 |
| CR-V EX | 2.4l I4 (185-bhp) | A5 | FWD | 23/31/27 | | $24,595 |
| CR-V EX | 2.4l I4 (185-bhp) | A5 | AWD | 22/30/26 | | $25,845 |
| CR-V EX-L | 2.4l I4 (185-bhp) | A5 | FWD | 23/31/27 | | $27,245 |
| CR-V EX-L | 2.4l I4 (185-bhp) | A5 | AWD | 22/30/26 | | $28,495 |
| CR-V EX-L Navi | 2.4l I4 (185-bhp) | A5 | FWD | 23/31/27 | | $28,745 |
| CR-V EX-L Navi | 2.4l I4 (185-bhp) | A5 | AWD | 22/30/26 | | $29,995 |
Comparisons
Reviews
Videos
Model History