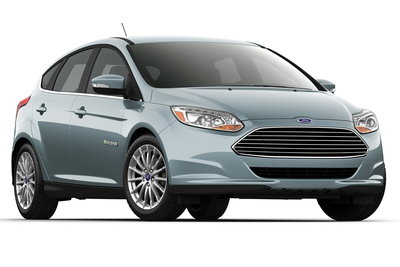 At a Glance
| | |
| --- | --- |
| Pricing | $39,200 |
| Drive Types | FWD |
| Engines | EV |
| Transmissions | A1 |
Our Ratings
Overview Information
Ford has aggressive plans to electrify its product range. One of the first dedicated electric vehicles due on the market is the Ford Focus Electric. Based on the new (for 2012) Ford Focus 5-door, the Focus electric is notable for being a mainstream product offering from a large automaker. Although details are somewhat vague, Ford claims that the Focus Electric is appropriate for the large number of people who drive 100 miles or less in a day's time. The battery pack is rechargeable in about 3 hours at 240V, or overnight at 120V. Ford plans to offer a low-cost 240V charging station through Best Buy retail stores. A variety of new technologies will provide drivers with critical information on the status of the system. Many features like the recharge status of the car will be available through the owner's smartphone or the web. A value charging function will allow the car to recharge during off-peak times.
What Changed:
The Focus Electric is one of Ford's first dedicated battery-electric vehicles intended for widespread retail sales. A 100kw motor provides the power. The transmission is a 1-speed automatic that is designed to accommodate the high RPMs of an electric motor. A liquid-cooled 23kwh lithium-ion battery pack resides in the rear of the vehicle.
Official Word:
Ford Motor Company unveiled today its all-new Focus Electric - the company's first-ever all-electric passenger car. The zero-CO2-emissions, gasoline-free version of Ford's popular small car is the flagship of the company's growing fleet of hybrid, plug-in hybrid and all-electric vehicles coming to North America and Europe by 2013. "Focus Electric is the flagship of our new family of electrified vehicles, showcasing our commitment to offer consumers choice when it comes to fuel-efficient or fuel-free vehicles," said...Read.
| Model/Trim/Package | Engine | | | MPG | VjI | Base Price |
| --- | --- | --- | --- | --- | --- | --- |
| Focus Electric | EV (141-bhp) | A1 | FWD | | 47 | $39,200 |
Comparisons
Reviews
Videos
Model History