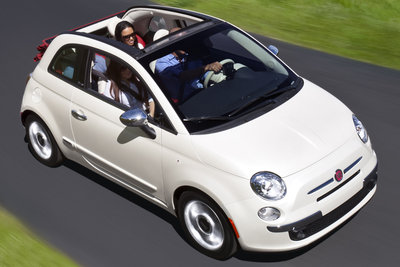 At a Glance
| | |
| --- | --- |
| Pricing | $19,500 - $27,500 |
| Drive Types | FWD |
| Engines | 1.4l I4 |
| Transmissions | A6, M5 |
| Fuel Economy | 27-30 (city), 32-38 (highway) |
Our Ratings
Overview Information
The Fiat 500 has a rich history not unlike that of the Volkswagen Beetle. The original was a small rear-engine car that Fiat produced for almost 20 years. The modern version was introduced in 2007 in Europe and 2011 in America. The diminutive four-passenger 500 is larger than a Smart ForTwo, but smaller than a Toyota Yaris. Fiat offers the 500 in three trim levels ranging in price from $16,000 to over $20,000 with options (convertible models start at $20,000). All equip a fuel-efficient 1.4l four-cylinder engine driving the front wheels. The 500C model has a convertible inner roof with a power folding cloth top. The 500 is sold through a select number of Chrysler dealerships.
What Changed:
The US version of the Fiat 500 arrives for the 2012 model year. The 500 is a small front-wheel-drive car with seating for four passengers. In size, the 500 is smaller than vehicles like the Mazda Mazda2, Mini Cooper and Toyota Yaris, yet significantly larger than the Smart Fortwo. The convertible version features a power-retractable cloth top. A 1.4l four-cylinder engine is standard on all models. The convertible is available in two trim levels.
Official Word:
Just in time for spring, the new Fiat 500 Cabrio introduces American customers to open-air driving excitement with beautiful Italian styling, timeless functionality, efficient design and innovative technology. As a contemporary solution to the famous canvas roof on the original Nuova Cinquecento (500), the new 2012 Fiat 500c features a premium dual-layer power-operated cloth top that is designed to deliver all-season driving pleasure with the top up or down. With just the push of a button,...Read.
| Model/Trim/Package | Engine | | | MPG | VjI | Base Price |
| --- | --- | --- | --- | --- | --- | --- |
| 500 C Pop | 1.4l I4 (101-bhp) | M5 | FWD | 30/38/34 | 42 | $19,500 |
| 500 C Pop | 1.4l I4 (101-bhp) | A6 | FWD | 27/32/29 | 42 | $20,500 |
| 500 C Lounge | 1.4l I4 (101-bhp) | A6 | FWD | 27/32/29 | 42 | $23,500 |
| 500 C Gucci | 1.4l I4 (101-bhp) | A6 | FWD | 27/32/29 | 42 | $27,500 |
Comparisons
Reviews
Videos
Model History