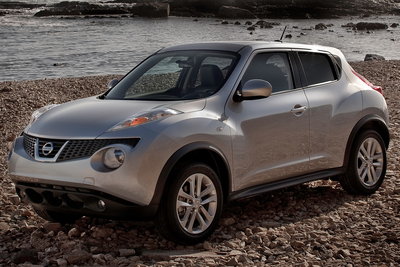 At a Glance
| | |
| --- | --- |
| Pricing | $19,570 - $25,200 |
| Drive Types | FWD, AWD |
| Engines | 1.6l I4 T |
| Transmissions | CVT, M6 |
| Fuel Economy | 24-27 (city), 30-32 (highway) |
Overview Information
Nissan aims to have a complete portfolio of small cars available in North America. The latest is the Nissan Juke. The Juke is a tall five-passenger hatchback with optional all-wheel-drive. Because the Juke has some SUV styling traits and optional AWD, Nissan is marketing it as a crossover vehicle. A sophisticated 1.6l four-cylinder engine with direct injection and a turbocharger is standard. With 188-horspower, the small Juke should feel quick. The optional all-wheel-drive system can split the torque between the front and rear axle and between the left and right rear wheels to enhance traction and maneuverability. Juke is offered in eight trim levels ranging from $19,000 to $25,000. The closest direct competitor to the Juke is the Mini Countryman.
What Changed:
The Juke is an all-new vehicle that Nissan is marketing as a crossover. Derived from Nissans B-segment platform, the Juke shares a wheelbase with the Cube, but is longer and wider. At 61.8 inches tall, the Juke is a couple of inches taller than other compact hatchbacks, but several inches shorter than smaller SUVS like the CR-V. A new turbocharged 1.6l four cylinder with direct injection is standard. An optional all-wheel drive system is capable of varying torque from front to back and from left to right on the rear axle.
Official Word:
The all-new 2011 Nissan JUKE sport cross, which hits Nissan dealer showrooms in the United States in September 2010, draws on a number of active lifestyle influences, including motorcycles and rally cars, to create a breakthrough design among traditional B-segment hatchbacks. Along with its bold design and highly distinctive, sporty styling inside and out, JUKE brings unexpected levels of performance from a standard 188-horsepower 1.6-liter Direct Injection Gasoline (DIG(TM)) turbo 4-cylinder engine and an advanced torque...Read.
| Model/Trim/Package | Engine | | | MPG | VjI | Base Price |
| --- | --- | --- | --- | --- | --- | --- |
| Juke S | 1.6l I4 T (188-bhp) | CVT | FWD | 27/32/29 | | $19,570 |
| Juke SV | 1.6l I4 T (188-bhp) | M6 | FWD | 24/31/27 | | $20,880 |
| Juke S | 1.6l I4 T (188-bhp) | CVT | AWD | 25/30/27 | | $21,070 |
| Juke SV | 1.6l I4 T (188-bhp) | CVT | FWD | 27/32/29 | | $21,380 |
| Juke SV | 1.6l I4 T (188-bhp) | CVT | AWD | 25/30/27 | | $22,880 |
| Juke SL | 1.6l I4 T (188-bhp) | M6 | FWD | 24/31/27 | | $23,200 |
| Juke SL | 1.6l I4 T (188-bhp) | CVT | FWD | 27/32/29 | | $23,700 |
| Juke SL | 1.6l I4 T (188-bhp) | CVT | AWD | 25/30/27 | | $25,200 |
Comparisons
Reviews
Videos
Model History