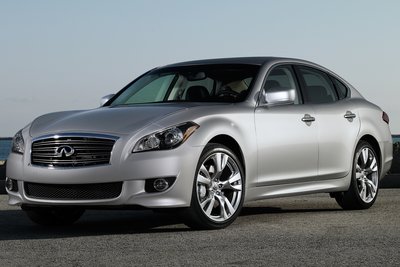 At a Glance
| | |
| --- | --- |
| Pricing | $47,050 - $60,950 |
| Drive Types | RWD, AWD |
| Engines | 3.7l V6, 5.6l V8 |
| Transmissions | A7 |
| Fuel Economy | 16-18 (city), 23-26 (highway) |
Overview Information
As Infiniti's product line has evolved, the M has become the flagship of the brand. The latest M sedan features aggressive styling and a choice of powerful V6 and V8 engines. The model range includes the 330-bhp M37 and M37x AWD V6 models and the 420-bhp M56 and M56 AWD V8 models. All are equipped with a seven-speed automatic and a host of electronic driving aids like stability control Above and beyond common luxury features the M also offers rare features like a lane-departure system and a blind spot intervention system. A Sport model features a motor-actuated active steering system that changes the rear suspension geometry to augment handling. Infiniti's M is well styled, well powered and well equipped to do battle in a robust market segment.
What Changed:
An all-new Infiniti M bows for 2011. The new M is roughly the same size inside as its predecessor but wears significantly new styling outside and in. The wider new exterior has significantly more styling detail with pronounced fenders, protruding wheel arches and larger and more pronounced grille. The new model upgrades to the newest powertrains in the Infiniti lineup. The M37 has a 330-bhp 3.7l V6 under the hood, whereas the M56 equips the larger 420-bhp 5.6L V8. A seven-speed automatic is standard on all models. All-wheel-drive is offered with both the V6 and V8 engine (M37x and M56x).
Official Word:
Performance reshaped to ignite invigoration. Luxury alive to the human touch. Industry-first technology honed to anticipate. Of all the ways used to describe Infiniti's all-new halo sedan, the 2011 Infiniti M, it all perhaps comes down to one word - Inspired. Like the dramatic Infiniti Essence Concept, which served as a blueprint for the new M's designers and engineers, this next-generation M embraces the essence of all things Infiniti - style, performance, luxury, craftsmanship and technology....Read.
| Model/Trim/Package | Engine | | | MPG | VjI | Base Price |
| --- | --- | --- | --- | --- | --- | --- |
| M37 | 3.7l V6 (330-bhp) | A7 | RWD | 18/26/22 | | $47,050 |
| M37x | 3.7l V6 (330-bhp) | A7 | AWD | 17/24/20 | | $49,200 |
| M56 | 5.6l V8 (420-bhp) | A7 | RWD | 16/25/20 | | $58,450 |
| M56x | 5.6l V8 (420-bhp) | A7 | AWD | 16/23/19 | | $60,950 |
Comparisons
Reviews
Videos
Model History