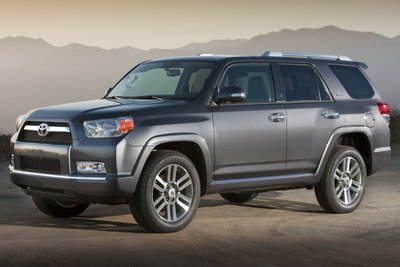 At a Glance
| | |
| --- | --- |
| Pricing | $27,500 - $42,235 |
| Drive Types | RWD, 4WD |
| Engines | 2.7l I4, 4.0l V6 |
| Transmissions | A4, A5 |
| Fuel Economy | 17-18 (city), 22-23 (highway) |
Overview Information
Toyota has established the 4Runner as a capable midsize SUV, filling a unique niche in the market. In Toyota's lineup, it offers buyers a more ruggedized SUV than the Highlander while offering a size advantage over the FJ Cruiser and a price advantage over the Land Cruiser. The latest model adds a more luxurious interior, but retains its off-road capabilities. The standard 4.0L V-6 can be substituted for a more fuel-efficient four-cylinder on the SR5 4x2 model. 4Runners are available in 2WD or part-time 4WD models in the SR5 and Trail grades. A Torsen(R) center differential is standard on the 4WD 4Runner Limited. An available third row seat allows the 4Runner to carry seven.
What Changed:
The fifth generation 4Runner grows by roughly a half inch in length and width. The exterior styling retains most of lines of the prior model adding exaggerated wheel wells and a shorter looking greenhouse for a more rugged appearance. The 4Runner comes in three trim levels: SR5, Trail and Limited. A 4.0L V6 powers most models, but the entry-level SR5 4x2 model offers a more fuel-efficient four-cylinder engine. The V8 is not offered for 2010.
Official Word:
Toyota Motor Sales (TMS), USA, Inc., introduced the all-new 2010 Toyota 4Runner today at the State Fair of Texas. When the first Toyota 4Runner sport utility vehicle (SUV) was launched back in 1984 it was a revolutionary new vehicle based on the mechanics of the four-wheel-drive Toyota pickup truck. The 4Runner combined the versatility and go-anywhere ability of four-wheel-drive with the comfort and utility found in passenger cars. Twenty-five years, four generations and more than 1.5...Read.
| Model/Trim/Package | Engine | | | MPG | VjI | Base Price |
| --- | --- | --- | --- | --- | --- | --- |
| 4Runner SR5 | 2.7l I4 (157-bhp) | A4 | RWD | 18/23/20 | | $27,500 |
| 4Runner SR5 | 4.0l V6 (270-bhp) | A5 | RWD | 17/23/20 | | $29,175 |
| 4Runner SR5 7p | 4.0l V6 (270-bhp) | A5 | RWD | 17/23/20 | | $29,980 |
| 4Runner SR5 | 4.0l V6 (270-bhp) | A5 | 4WD | 17/22/19 | | $30,915 |
| 4Runner SR5 Premium | 4.0l V6 (270-bhp) | A5 | RWD | 17/23/20 | | $31,380 |
| 4Runner SR5 7p | 4.0l V6 (270-bhp) | A5 | 4WD | 17/22/19 | | $31,720 |
| 4Runner SR5 7p Premium | 4.0l V6 (270-bhp) | A5 | RWD | 17/23/20 | | $32,745 |
| 4Runner SR5 Premium | 4.0l V6 (270-bhp) | A5 | 4WD | 17/22/19 | | $33,120 |
| 4Runner SR5 7p Premium | 4.0l V6 (270-bhp) | A5 | 4WD | 17/22/19 | | $34,485 |
| 4Runner Trail | 4.0l V6 (270-bhp) | A5 | 4WD | 17/22/19 | | $35,700 |
| 4Runner Limited | 4.0l V6 (270-bhp) | A5 | RWD | 17/23/20 | | $37,765 |
| 4Runner Limited | 4.0l V6 (270-bhp) | A5 | 4WD | 17/22/19 | | $39,800 |
| 4Runner Limited 7p Navigation | 4.0l V6 (270-bhp) | A5 | RWD | 17/23/20 | | $40,200 |
| 4Runner Limited 7p Navigation | 4.0l V6 (270-bhp) | A5 | 4WD | 17/22/19 | | $42,235 |
Comparisons
Reviews
Videos
Model History