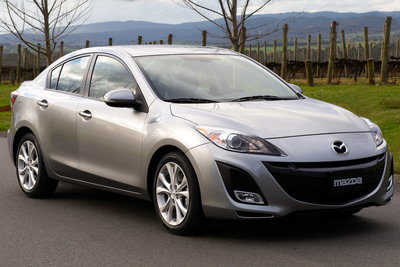 At a Glance
| | |
| --- | --- |
| Pricing | $15,045 - $22,300 |
| Drive Types | FWD |
| Engines | 2.0l I4, 2.5l I4 |
| Transmissions | A5, M5, M6 |
| Fuel Economy | 21-25 (city), 29-33 (highway) |
Overview Information
The Mazda3 has been highly acclaimed as a compact sport sedan for good reason. A combination of nimble handling and sporty looks ensures that owners need make no apologies for their choice. Mazda3 sedans are equipped with a 148-bhp 2.0L I-4 or an optional 2.5L I-4.
What Changed:
Mazda's compact Mazda3 enters 2010 with all-new exterior and interior styling. Although the platform is the same size as the previous model, the restyled exterior is about 3 inches longer. The 2.0L four cylinder base engine carries over for use in the sedan's i trim level. Upper trim level sedans equip a new 2.5L four-cylinder engine that produces more power than last year's 2.3L.
Official Word:
Developed in line with Mazda's Sustainable Zoom-Zoom philosophy of engineering vehicles that are fun to drive, satisfying to own, and environmentally responsible, the all-new MAZDA3 is one of the most anticipated product launches at the 2008 Los Angeles Auto Show. The popular MAZDA3 - the company's best-selling vehicle worldwide - arrives as a fully reengineered, completely redesigned, second-generation compact sedan providing: A richer looking, more dynamic exterior design Added driving enjoyment with improved performance in all...Read.
| Model/Trim/Package | Engine | | | MPG | VjI | Base Price |
| --- | --- | --- | --- | --- | --- | --- |
| MAZDA3 i SV | 2.0l I4 (148-bhp) | M5 | FWD | 25/33/29 | | $15,045 |
| MAZDA3 i Sport | 2.0l I4 (148-bhp) | M5 | FWD | 25/33/29 | | $15,975 |
| MAZDA3 i Sport | 2.0l I4 (148-bhp) | A5 | FWD | 24/33/28 | | $16,825 |
| MAZDA3 i Touring | 2.0l I4 (148-bhp) | M5 | FWD | 25/33/29 | | $17,500 |
| MAZDA3 i Touring | 2.0l I4 (148-bhp) | A5 | FWD | 24/33/28 | | $18,350 |
| MAZDA3 s Sport | 2.5l I4 (167-bhp) | M6 | FWD | 21/29/25 | | $18,740 |
| MAZDA3 s Sport | 2.5l I4 (167-bhp) | A5 | FWD | 22/29/25 | | $19,540 |
| MAZDA3 s Grand Touring | 2.5l I4 (167-bhp) | M6 | FWD | 21/29/25 | | $21,500 |
| MAZDA3 s Grand Touring | 2.5l I4 (167-bhp) | A5 | FWD | 22/29/25 | | $22,300 |
Comparisons
Videos
Model History