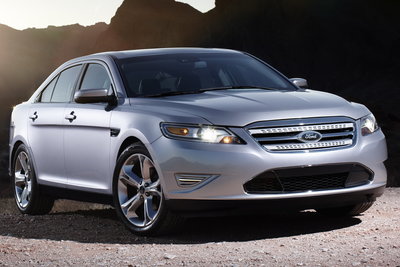 At a Glance
| | |
| --- | --- |
| Pricing | $25,170 - $40,570 |
| Drive Types | FWD, AWD |
| Engines | 3.5l V6, 3.5l V6 T |
| Transmissions | A6 |
| Fuel Economy | 17-18 (city), 25-28 (highway) |
Our Ratings
Overview Information
After twenty some years on the market, the Taurus has clearly reached legendary status. The Taurus was once the best seller in its segment and remained a top seller for Ford even as Ford neglected the model for many years. In 2008, the underappreciated Ford Five Hundred was renamed the Taurus setting the stage for the best Taurus in many years. The Taurus is a large sedan with plentiful legroom and headroom in the first and second rows. A 263-bhp V6 has sufficient power for quick acceleration with respectable fuel economy. The Taurus is FWD, but also offers AWD for increased traction. The latest model features a lengthy list of safety, technology and luxury features, many of which are standard equipment. The Taurus once again offers a high-performance SHO model. The Taurus SHO equips a 365-bhp turbocharged V6 for more power and AWD to better utilize it.
What Changed:
The Taurus wears all new styling inside and out for 2010. Highlights of the new styling are the large domed hood, angular c-pillar and chiseled lines on the profile. Although the platform carried over, the Taurus gained about an inch in length and width. The base 3.5L V6 under the hood still produces 263-bhp. The performance-oriented SHO model returns for 2010. The SHO has a turbocharged 3.5L V6 and AWD.
Official Word:
One of America's favorite "sleeper" performance cars returns to the Ford lineup, powered by a Super High Output (SHO) EcoBoost twin turbocharged engine. The Taurus SHO joins Ford's growing lineup of performance vehicles for the 2010 model year, building on the legacy of the original, which earned a spot on the Car and Driver 10 Best list four years running. "The new Taurus SHO delivers on the authentic sleeper sedan formula but adds all-new luxury-appointments, convenience...Read.
| Model/Trim/Package | Engine | | | MPG | VjI | Base Price |
| --- | --- | --- | --- | --- | --- | --- |
| Taurus SE 100A | 3.5l V6 (263-bhp) | A6 | FWD | 18/28/22 | 58 | $25,170 |
| Taurus SEL 200A | 3.5l V6 (263-bhp) | A6 | FWD | 18/28/22 | 58 | $27,370 |
| Taurus SEL 201A | 3.5l V6 (263-bhp) | A6 | FWD | 18/28/22 | 58 | $28,070 |
| Taurus SEL 200A | 3.5l V6 (263-bhp) | A6 | AWD | 17/25/21 | 52 | $29,220 |
| Taurus SEL 201A | 3.5l V6 (263-bhp) | A6 | AWD | 17/25/21 | 52 | $29,920 |
| Taurus SEL 202A | 3.5l V6 (263-bhp) | A6 | FWD | 18/28/22 | 58 | $30,170 |
| Taurus SEL 202A | 3.5l V6 (263-bhp) | A6 | AWD | 17/25/21 | 52 | $32,020 |
| Taurus Limited 300A | 3.5l V6 (263-bhp) | A6 | FWD | 18/28/22 | 61 | $31,770 |
| Taurus Limited 301A | 3.5l V6 (263-bhp) | A6 | FWD | 18/28/22 | 61 | $32,770 |
| Taurus Limited 300A | 3.5l V6 (263-bhp) | A6 | AWD | 17/25/21 | 55 | $33,620 |
| Taurus Limited 302A | 3.5l V6 (263-bhp) | A6 | FWD | 18/28/22 | 61 | $33,770 |
| Taurus Limited 303A | 3.5l V6 (263-bhp) | A6 | FWD | 18/28/22 | 61 | $34,270 |
| Taurus Limited 301A | 3.5l V6 (263-bhp) | A6 | AWD | 17/25/21 | 55 | $34,620 |
| Taurus Limited 302A | 3.5l V6 (263-bhp) | A6 | AWD | 17/25/21 | 55 | $35,620 |
| Taurus Limited 303A | 3.5l V6 (263-bhp) | A6 | AWD | 17/25/21 | 55 | $36,120 |
| Taurus SHO 400A | 3.5l V6 T (365-bhp) | A6 | AWD | 17/25/21 | 61 | $37,770 |
| Taurus SHO 401A | 3.5l V6 T (365-bhp) | A6 | AWD | 17/25/21 | 61 | $39,770 |
| Taurus SHO 402A | 3.5l V6 T (365-bhp) | A6 | AWD | 17/25/21 | 61 | $40,570 |
Comparisons
Reviews
Videos
Model History