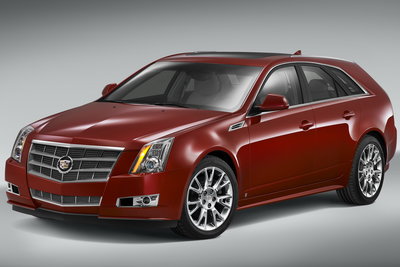 At a Glance
| | |
| --- | --- |
| Pricing | $38,265 - $50,565 |
| Drive Types | RWD, AWD |
| Engines | 3.0l V6, 3.6l V6 |
| Transmissions | A6 |
| Fuel Economy | 18 (city), 26-27 (highway) |
Overview Information
The long-rumored Cadillac CTS Sport Wagon was unveiled to the public at the Pebble Beach Concours d'Elegance in California. The wagon's proportions are virtually identical to the sedan adding only one inch of height. The Wagon also shares the sedan's choice of 3.6L V6 engines, rear-wheel-drive and optional all-wheel-drive. The CTS wagon holds up to five passengers in two rows of seats and still has room for about 25 cubic feet of storage in the cargo area. The principal competition for the CTS wagon will be small and mid-sized wagons from BMW, Audi and a number of smaller luxury crossovers.
What Changed:
The CTS line grows to two body styles with the addition of a proper station wagon. The dramatically styled CTS Sport Wagon shares its 3.0L and 3.6L engines with the sedan models. A power-operated tailgate provides access to the cargo hold.
Official Word:
Cadillac's first-ever North American wagon is a progressive take on the classic wagon body style that delivers significant functionality and fuel efficiency, including up to an estimated 28 mpg highway. It is a unique vehicle intended to connect with the changing priorities of luxury consumers. The CTS Sport Wagon is essentially the same size as the acclaimed CTS sport sedan on the outside. However, the new Sport Wagon nearly doubles carrying capacity, with 25 cubic feet...Read.
| Model/Trim/Package | Engine | | | MPG | VjI | Base Price |
| --- | --- | --- | --- | --- | --- | --- |
| CTS Sport Wagon | 3.0l V6 (270-bhp) | A6 | RWD | 18/27/22 | | $38,265 |
| CTS Sport Wagon | 3.0l V6 (270-bhp) | A6 | AWD | 18/26/22 | | $40,165 |
| CTS Sport Wagon Luxury | 3.0l V6 (270-bhp) | A6 | RWD | 18/27/22 | | $40,965 |
| CTS Sport Wagon Performance | 3.0l V6 (270-bhp) | A6 | RWD | 18/27/22 | | $41,565 |
| CTS Sport Wagon Luxury | 3.0l V6 (270-bhp) | A6 | AWD | 18/26/22 | | $42,865 |
| CTS Sport Wagon Performance | 3.0l V6 (270-bhp) | A6 | AWD | 18/26/22 | | $43,465 |
| CTS Sport Wagon 3.6L Performance | 3.6l V6 (304-bhp) | A6 | RWD | 18/26/22 | | $43,365 |
| CTS Sport Wagon 3.6L Performance | 3.6l V6 (304-bhp) | A6 | AWD | 18/26/22 | | $45,265 |
| CTS Sport Wagon 3.6L Premium | 3.6l V6 (304-bhp) | A6 | RWD | 18/26/22 | | $48,665 |
| CTS Sport Wagon 3.6L Premium | 3.6l V6 (304-bhp) | A6 | AWD | 18/26/22 | | $50,565 |
Comparisons
Videos
Model History