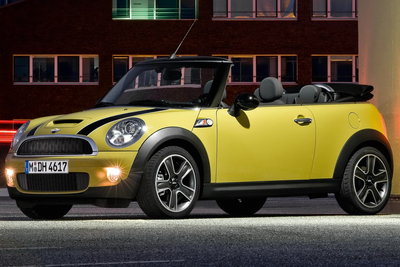 At a Glance
| | |
| --- | --- |
| Pricing | $23,900 - $34,300 |
| Drive Types | FWD |
| Engines | 1.6l I4, 1.6l I4 T |
| Transmissions | A6, M6 |
| Fuel Economy | 23-28 (city), 32-36 (highway) |
Our Ratings
Overview Information
If you have already achieved universal 'cute' appeal, what do you do next? If you are MINI, you go topless. The Mini Cooper Cabriolet retains just about everything that is great about the cooper while adding a smart retractable roof to the mix. The soft top can be partially retracted for a targa effect or completely retracted for complete top-down motoring. A strong A-pillar and small roll bars provide security from accidental rollover. The Cooper Cabriolet is offered in Cooper and Cooper S models and carries about a 5000 price premium over the hardtop model.
What Changed:
MINI introduces a reworked convertible model for 2009. Although the second-generation MINI convertible has been thoroughly updated, it would take a trained eye to spot the differences. The convertible gains about 2.5 inches in length, but virtually everything else remains about the same size.
Official Word:
The driving pleasure and individual style that are MINI's signatures have been tapped to create the next-generation MINI Convertible. With its evolutionary design and increased functionality, specially tuned suspension, powerful, efficient engines and enhanced safety technology, the latest version of the four-seat convertible raises the bar. New color choices and equipment features add up to endless options for personalization. The premium materials and finishes enhance the MINI Convertible - the only open-air car in its class...Read.
| Model/Trim/Package | Engine | | | MPG | VjI | Base Price |
| --- | --- | --- | --- | --- | --- | --- |
| Cooper Convertible | 1.6l I4 (118-bhp) | M6 | FWD | 28/36/32 | 47 | $23,900 |
| Cooper Convertible | 1.6l I4 (118-bhp) | A6 | FWD | 25/34/29 | 47 | $25,150 |
| Cooper Convertible S | 1.6l I4 T (172-bhp) | M6 | FWD | 26/34/30 | 55 | $26,800 |
| Cooper Convertible S | 1.6l I4 T (172-bhp) | A6 | FWD | 23/32/27 | 52 | $28,050 |
| Cooper Convertible JCW | 1.6l I4 T (208-bhp) | M6 | FWD | 26/34/30 | 60 | $34,300 |
Comparisons
Reviews
Videos
Model History