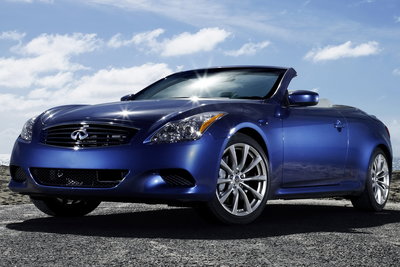 At a Glance
| | |
| --- | --- |
| Pricing | $43,850 - $51,450 |
| Drive Types | RWD |
| Engines | 3.7l V6 |
| Transmissions | A7, M6 |
| Fuel Economy | 16-17 (city), 24-25 (highway) |
Our Ratings
Overview Information
As an alternative to the BMW 3-Series, the Infiniti G-Series has proven quite capable in both sedan and coupe forms. This year Infiniti broadens its successful G37 line to include a convertible model. The convertible is a power-operated retractable hard top that operates in about 20 seconds. When open, the three-piece hard top is stowed out of sight under a hard cover leaving the lines of the car unspoiled. With the top closed, the hard top promises better shelter during inclimate weather. The convertible shares its 3.7L V6 engine and 7-speed automatic with the G37 coupe and sedan. With a starting price of $44,000, the G37 coupe has a healthy list of standard equipment including leather seating and HID lights. With option packages, the G37 approaches $50,000 fully loaded.
What Changed:
The Infiniti G37 Convertible is an all-new model featuring a 3-piece folding hardtop. The convertible is longer and wider than the coupe.
Official Word:
Infiniti today unveiled the latest expression of its "Inspired Performance," the all-new 2009 Infiniti G Convertible, at the 2008 Los Angeles Auto Show. The first-ever Infiniti G Convertible builds upon the performance legacy of the Infiniti G line, with the liberation only a convertible with the top down can provide. It is scheduled to go on sale at Infiniti dealers in North America in the spring of 2009, followed later in other Infiniti markets around the...Read.
| Model/Trim/Package | Engine | | | MPG | VjI | Base Price |
| --- | --- | --- | --- | --- | --- | --- |
| G37 | 3.7l V6 (325-bhp) | A7 | RWD | 17/25/21 | 65 | $43,850 |
| G37s | 3.7l V6 (325-bhp) | M6 | RWD | 16/24/20 | 61 | $43,900 |
| G37 Sport | 3.7l V6 (325-bhp) | A7 | RWD | 17/25/21 | 65 | $45,400 |
| G37s Premium | 3.7l V6 (325-bhp) | M6 | RWD | 16/24/20 | 61 | $46,950 |
| G37 Premium | 3.7l V6 (325-bhp) | A7 | RWD | 17/25/21 | 65 | $47,100 |
| G37 Premium + Sport | 3.7l V6 (325-bhp) | A7 | RWD | 17/25/21 | 65 | $48,450 |
| G37s Navigation | 3.7l V6 (325-bhp) | M6 | RWD | 16/24/20 | 61 | $48,800 |
| G37 Navigation | 3.7l V6 (325-bhp) | A7 | RWD | 17/25/21 | 65 | $48,950 |
| G37s Technology | 3.7l V6 (325-bhp) | M6 | RWD | 16/24/20 | 61 | $49,950 |
| G37 Technology | 3.7l V6 (325-bhp) | A7 | RWD | 17/25/21 | 65 | $50,100 |
| G37 Navigation + Sport | 3.7l V6 (325-bhp) | A7 | RWD | 17/25/21 | 65 | $50,300 |
| G37 Technology + Sport | 3.7l V6 (325-bhp) | A7 | RWD | 17/25/21 | 65 | $51,450 |
Comparisons
Reviews
Videos
Model History