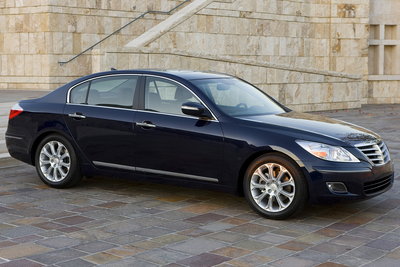 At a Glance
| | |
| --- | --- |
| Pricing | $32,250 - $41,250 |
| Drive Types | RWD |
| Engines | 3.8l V6, 4.6l V8 |
| Transmissions | A6 |
| Fuel Economy | 17-18 (city), 25-27 (highway) |
Overview Information
Hyundai made headlines last year with the introduction of the Veracruz crossover. The Veracruz offered the styling and features of the Lexus RX for thousands less. Enter the Genesis sedan, which goes after the E-Class and 5-Series in a similar fashion. The Genesis sedan is a large mid-sized vehicle that rides on a all new rear-wheel-drive platform which features an independent 5-link suspension in the front and rear. Engine choices include a 3.8L V6 and a new 4.6L V8. The V8 is rated at 375 hp on premium fuel. The Genesis sedan offers a host of upscale luxury features including Smart Cruise Control, HID headlamps, and a Lexicon audio system featuring LOGIC 7 technology. With pricing in the $30,000 range, the Genesis is sure to snag some buyers in a burgeoning luxury market.
What Changed:
The Genesis is an all-new RWD flagship sedan from Hyundai. Engine choices include a 290-hp 3.8L V6, and a 375-hp 4.6L V8. A six-speed automatic is standard.
Official Word:
Hyundai aims to shatter premium automobile paradigms with the North American International Auto Show introduction of its new flagship, the all-new Genesis rear-wheel-drive sports sedan on January 13. With capabilities and features comparable to $60,000 luxury sedans, Genesis will be offered at a starting price under $30,000 when it goes on sale this summer. Genesis is built on Hyundai's all-new, performance-driven rear-wheel-drive architecture. It offers three powertrains, including 3.3-liter and 3.8-liter V6 engines, and Hyundai's all-new...Read.
| Model/Trim/Package | Engine | | | MPG | VjI | Base Price |
| --- | --- | --- | --- | --- | --- | --- |
| Genesis 3.8 | 3.8l V6 (290-bhp) | A6 | RWD | 18/27/22 | | $32,250 |
| Genesis 3.8 Premium | 3.8l V6 (290-bhp) | A6 | RWD | 18/27/22 | | $34,250 |
| Genesis 3.8 Premium Plus | 3.8l V6 (290-bhp) | A6 | RWD | 18/27/22 | | $35,250 |
| Genesis 3.8 Technology+Premium Plus | 3.8l V6 (290-bhp) | A6 | RWD | 18/27/22 | | $39,250 |
| Genesis 4.6 | 4.6l V8 (368-bhp) | A6 | RWD | 17/25/21 | | $37,250 |
| Genesis 4.6 Technology | 4.6l V8 (368-bhp) | A6 | RWD | 17/25/21 | | $41,250 |
Comparisons
Videos
Model History