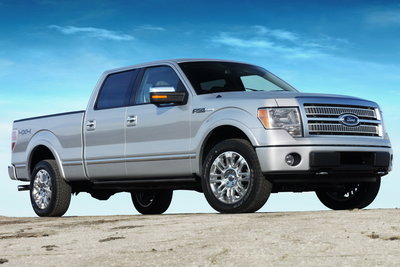 At a Glance
| | |
| --- | --- |
| Pricing | $28,575 - $44,355 |
| Drive Types | RWD, 4WD |
| Engines | 4.6l V8, 5.4l V8 |
| Transmissions | A4, A6 |
Our Ratings
Overview Information
The Ford F-Series is the best-selling pickup in the USA. One of the reasons for its popularity is the wide range of body and powertrain variants for personal use and utility needs.
What Changed:
The 2009 Ford F-Series features all-new styling and a new frame that is both lighter and stronger. The range includes three V8 engines; a 2-valve 4.6L V8, a 3-valve 4.6L V8 and the range topping 5.4L V8. Some applications feature a six-speed automatic, the rest retain a four-speed automatic. Recent Ford innovations such as the tailgate step, capless fuel filler system, and the SYNC voice activation system all find their way to Ford's flagship vehicle. The F-Series retains its flexibility with a dizzying array of 35 different model choices in three cab styles, two bed styles, three bed lengths, and seven trim levels including a new Platinum edition.
Official Word:
The vision for Ford's truck team was clear: Redesign America's favorite truck inside and out to give customers unrivaled capability, unprecedented choice and a host of smart, game-changing features. The result is the new 2009 Ford F-150, the new benchmark in the full-size pickup segment from the industry's truck leader -- which has built more than 33 million F-Series pickups since 1948. The Ford truck team adopted a holistic, 360-degree approach to revamping the new 2009...Read.
| Model/Trim/Package | Engine | | | MPG | VjI | Base Price |
| --- | --- | --- | --- | --- | --- | --- |
| F-150 Crew Cab XL 5.5 ft. bed | 4.6l V8 (248-bhp) | A4 | RWD | | 29 | $28,575 |
| F-150 Crew Cab XL 6.5 ft. bed | 4.6l V8 (248-bhp) | A4 | RWD | | 27 | $28,875 |
| F-150 Crew Cab XL 5.5 ft. bed | 4.6l V8 (292-bhp) | A6 | RWD | | 33 | $29,470 |
| F-150 Crew Cab XL 6.5 ft. bed | 4.6l V8 (292-bhp) | A6 | RWD | | 33 | $29,770 |
| F-150 Crew Cab XL 5.5 ft. bed | 4.6l V8 (292-bhp) | A6 | 4WD | | 18 | $32,535 |
| F-150 Crew Cab XL 6.5 ft. bed | 4.6l V8 (292-bhp) | A6 | 4WD | | 18 | $32,835 |
| F-150 Crew Cab XLT 5.5 ft. bed | 4.6l V8 (292-bhp) | A6 | RWD | | 33 | $31,315 |
| F-150 Crew Cab XLT 6.5 ft. bed | 4.6l V8 (292-bhp) | A6 | RWD | | 33 | $31,615 |
| F-150 Crew Cab XLT 5.5 ft. bed | 5.4l V8 (310-bhp) | A6 | RWD | | 33 | $31,945 |
| F-150 Crew Cab XLT 6.5 ft. bed | 5.4l V8 (310-bhp) | A6 | RWD | | 33 | $32,245 |
| F-150 Crew Cab XLT 5.5 ft. bed | 4.6l V8 (292-bhp) | A6 | 4WD | | 18 | $34,710 |
| F-150 Crew Cab XLT 6.5 ft. bed | 4.6l V8 (292-bhp) | A6 | 4WD | | 18 | $35,010 |
| F-150 Crew Cab XLT 5.5 ft. bed | 5.4l V8 (310-bhp) | A6 | 4WD | | 20 | $35,340 |
| F-150 Crew Cab XLT 6.5 ft. bed | 5.4l V8 (310-bhp) | A6 | 4WD | | 20 | $35,640 |
| F-150 Crew Cab FX4 5.5 ft. bed | 5.4l V8 (310-bhp) | A6 | 4WD | | 22 | $36,760 |
| F-150 Crew Cab FX4 6.5 ft. bed | 5.4l V8 (310-bhp) | A6 | 4WD | | 22 | $37,060 |
| F-150 Crew Cab Lariat 5.5 ft. bed | 5.4l V8 (310-bhp) | A6 | RWD | | 36 | $35,315 |
| F-150 Crew Cab Lariat 6.5 ft. bed | 5.4l V8 (310-bhp) | A6 | RWD | | 36 | $35,615 |
| F-150 Crew Cab Lariat 5.5 ft. bed | 5.4l V8 (310-bhp) | A6 | 4WD | | 22 | $38,460 |
| F-150 Crew Cab Lariat 6.5 ft. bed | 5.4l V8 (310-bhp) | A6 | 4WD | | 22 | $38,760 |
| F-150 Crew Cab King Ranch 5.5 ft. bed | 5.4l V8 (310-bhp) | A6 | RWD | | 36 | $39,310 |
| F-150 Crew Cab King Ranch 6.5 ft. bed | 5.4l V8 (310-bhp) | A6 | RWD | | 36 | $39,610 |
| F-150 Crew Cab King Ranch 5.5 ft. bed | 5.4l V8 (310-bhp) | A6 | 4WD | | 22 | $42,455 |
| F-150 Crew Cab King Ranch 6.5 ft. bed | 5.4l V8 (310-bhp) | A6 | 4WD | | 22 | $42,755 |
| F-150 Crew Cab Platinum 5.5 ft. bed | 5.4l V8 (310-bhp) | A6 | RWD | | 36 | $40,910 |
| F-150 Crew Cab Platinum 6.5 ft. bed | 5.4l V8 (310-bhp) | A6 | RWD | | 36 | $41,210 |
| F-150 Crew Cab Platinum 5.5 ft. bed | 5.4l V8 (310-bhp) | A6 | 4WD | | 25 | $44,055 |
| F-150 Crew Cab Platinum 6.5 ft. bed | 5.4l V8 (310-bhp) | A6 | 4WD | | 25 | $44,355 |
Comparisons
Reviews
Videos
Model History