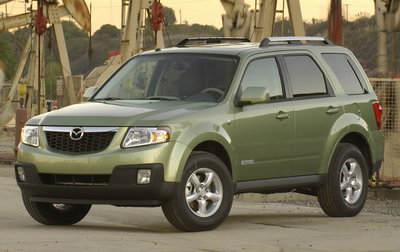 At a Glance
| | |
| --- | --- |
| Pricing | $19,270 - $29,570 |
| Drive Types | FWD, AWD |
| Engines | 2.3l I4, 2.3l I4 HEV, 3.0l V6 |
| Transmissions | A4, CVT, M5 |
| Fuel Economy | 17-34 (city), 22-30 (highway) |
Overview Information
The Mazda Tribute is the overlooked counterpart to the popular Ford Escape. Despite slightly different styling, the Tribute shares a 2.3L I-4 or 3.0L V-6 with the Escape. The 2.3L offers a 5-speed manual standard on the FWD model. Both engines are available with a 4-speed automatic and 4WD. A FWD hybrid electric vehicle (HEV) version of the Tribute pairs the 2.3L engine with an electric motor and battery pack. The HEV also features a CVT that drives the front wheels. All trim levels except the HEV model get standard Roll Stability Control (RSC) and Dynamic Stability Control (DSC). Options include heated leather seats, DVD entertainment system, 16-inch alloy wheels, and a towing package. Despite the updates, the Tribute lacks a 6-speed automatic like the slightly more expensive CX-7 crossover SUV, which would improve performance and fuel economy. As the Tribute is essentially a restyled Escape, there really is no compelling reason to prefer it to its Ford cousin.
What Changed:
The 2008 Tribute features updated styling inside and out. The most notable changes are to the front and rear fascias, but most of the sheet metal is new. Outside of a new electric power steering system, the chassis and powertrains are largely the same. A hybrid version is offered for the first time in the Tribute model.
Official Word:
DETROIT - Showing its commitment to improving the world's air quality, Mazda North American Operations (MNAO) will unveil the all-new 2008 Mazda Tribute Hybrid-Electric Vehicle (HEV) at the 2007 North American International Auto Show. With a hydrogen-powered version of the RX-8 and a hydrogen-powered hybrid version of the MAZDA5 undergoing extensive testing in Japan, the Tribute HEV is the latest environmentally friendly vehicle to join the Mazda lineup. Tribute HEV will debut in mid-2007, as a...Read.
| Model/Trim/Package | Engine | | | MPG | VjI | Base Price |
| --- | --- | --- | --- | --- | --- | --- |
| Tribute Sport | 2.3l I4 (153-bhp) | M5 | FWD | 22/28/25 | | $19,270 |
| Tribute Sport | 2.3l I4 (153-bhp) | A4 | FWD | 20/26/23 | | $20,685 |
| Tribute Sport | 3.0l V6 (200-bhp) | A4 | FWD | 18/24/21 | | $21,925 |
| Tribute Sport | 2.3l I4 (153-bhp) | A4 | AWD | 19/24/21 | | $22,435 |
| Tribute Sport | 3.0l V6 (200-bhp) | A4 | AWD | 17/22/19 | | $23,675 |
| Tribute Touring | 2.3l I4 (153-bhp) | A4 | FWD | 20/26/23 | | $21,460 |
| Tribute Touring | 2.3l I4 (153-bhp) | A4 | AWD | 19/24/21 | | $23,210 |
| Tribute Touring | 3.0l V6 (200-bhp) | A4 | FWD | 18/24/21 | | $23,260 |
| Tribute Touring | 3.0l V6 (200-bhp) | A4 | AWD | 17/22/19 | | $25,010 |
| Tribute HEV Touring | 2.3l I4 HEV (133-bhp) | CVT | FWD | 34/30/32 | | $25,310 |
| Tribute HEV Touring | 2.3l I4 HEV (133-bhp) | CVT | AWD | 29/27/28 | | $27,820 |
| Tribute Grand Touring | 2.3l I4 (153-bhp) | A4 | FWD | 20/26/23 | | $23,650 |
| Tribute Grand Touring | 3.0l V6 (200-bhp) | A4 | FWD | 18/24/21 | | $24,890 |
| Tribute Grand Touring | 2.3l I4 (153-bhp) | A4 | AWD | 19/24/21 | | $25,400 |
| Tribute Grand Touring | 3.0l V6 (200-bhp) | A4 | AWD | 17/22/19 | | $26,640 |
| Tribute HEV Grand Touring | 2.3l I4 HEV (133-bhp) | CVT | FWD | 34/30/32 | | $27,820 |
| Tribute HEV Grand Touring | 2.3l I4 HEV (133-bhp) | CVT | AWD | 29/27/28 | | $29,570 |
Comparisons
Reviews
Videos
Model History