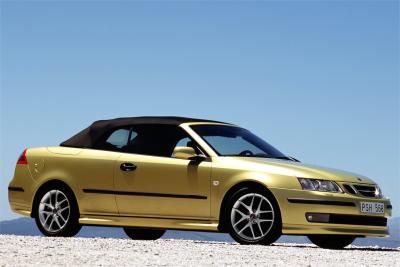 At a Glance
| | |
| --- | --- |
| Pricing | $39,995 - $43,850 |
| Drive Types | FWD |
| Engines | 2.0l I4 T |
| Transmissions | A5, M5, M6 |
Our Ratings
Overview Information
An all-new Saab 9-3 convertible is available for 2004. Developed in conjunction with the 9-3 sedan, the convertible shares the 175-bhp and 210-bhp 2.0L engines with the sedan. The convertible offers a number of innovations to help it stand out from an increasingly competitive group.
What Changed:
The 9-3 convertible is based on the same chassis as the 9-3 sport sedan. Arc and Aero version are offered with 175hp and 210hp versions of the 2.0L 4-cylinder. The fully-automatic top features 3 layers of lining for increased insulation and finished look on the inside.
Official Word:
It will appeal to customers who refuse to make comprimises in their choice of careers, family life or challenging leisure activities. These people want freedom and exceitement, as well as practical solutions. In other words, their choice must satisfy both emotional wants and rational needs.
| Model/Trim/Package | Engine | | | MPG | VjI | Base Price |
| --- | --- | --- | --- | --- | --- | --- |
| 9-3 Convertible 2.0t | 2.0l I4 T (175-bhp) | M5 | FWD | | 46 | $39,995 |
| 9-3 Convertible 2.0t | 2.0l I4 T (175-bhp) | A5 | FWD | | 46 | $41,245 |
| 9-3 Convertible 2.0T | 2.0l I4 T (210-bhp) | M6 | FWD | | 53 | $42,500 |
| 9-3 Convertible 2.0T | 2.0l I4 T (210-bhp) | A5 | FWD | | 53 | $43,850 |
Comparisons
Reviews
Press Releases
Videos
Model History