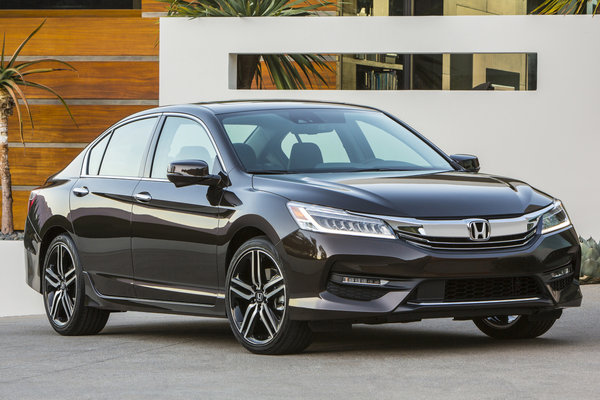 At a Glance
| | |
| --- | --- |
| Pricing | $22,105 - $34,580 |
| Drive Types | FWD |
| Engines | 2.0l , 2.4l I4, 3.5l V6 |
| Transmissions | A6, CVT, M6 |
| Fuel Economy | 21-50 (city), 34-45 (highway) |
Our Ratings
Overview Information
For over 35 years, the Honda Accord has been a standout for solid, reliable transportation with good performance, fuel-efficiency and value. The versatile Accord is offered in a range of trim levels from the LX to the top-of the line Touring model. All models include common power equipment like power windows, locks and dual-zone climate control. A range of powertrain options is available including four-cylinder and V6 engines and a hybrid system.
What Changed:
The 2016 Accord wears updated front and rear styling. Sport models and above receive LED daytime running lamps. Sport and Touring models wear 19-inch wheels/tires. The PHEV has been dropped.
Official Word:
The always popular, benchmark-setting Honda Accord, retail car buyers' most popular choice in 2013 and again in 2014(1), receives a major mid-model cycle refresh for the 2016 model year. With dynamic new styling, a revised and upgraded body and chassis, and Honda's first-ever application of available Apple CarPlay((R)) and Android Auto(TM), the 2016 Accord Sedan goes on sale tomorrow with the Accord Coupe following on August 26. The Accord also benefits from the addition of Honda...Read.
| Model/Trim/Package | Engine | | | MPG | VjI | Base Price |
| --- | --- | --- | --- | --- | --- | --- |
| Accord LX | 2.4l I4 (185-bhp) | M6 | FWD | 23/34/28 | 55 | $22,105 |
| Accord LX | 2.4l I4 (185-bhp) | CVT | FWD | 27/37/32 | 54 | $22,905 |
| Accord Sport | 2.4l I4 (189-bhp) | M6 | FWD | 23/34/28 | 63 | $24,165 |
| Accord Sport | 2.4l I4 (189-bhp) | CVT | FWD | 26/35/30 | 62 | $24,965 |
| Accord EX | 2.4l I4 (185-bhp) | M6 | FWD | 23/34/28 | 58 | $25,480 |
| Accord EX | 2.4l I4 (185-bhp) | CVT | FWD | 27/37/32 | 57 | $26,280 |
| Accord EX-L | 2.4l I4 (185-bhp) | CVT | FWD | 27/37/32 | 57 | $28,570 |
| Accord EX-L V6 | 3.5l V6 (278-bhp) | A6 | FWD | 21/34/27 | 60 | $30,645 |
| Accord Touring | 3.5l V6 (278-bhp) | A6 | FWD | 21/34/27 | 65 | $34,580 |
| Accord Hybrid | 2.0l (196-bhp) | CVT | FWD | 50/45/48 | 54 | TBD |
| Accord Hybrid EX-L | 2.0l (196-bhp) | CVT | FWD | 50/45/48 | 54 | TBD |
| Accord Hybrid Touring | 2.0l (196-bhp) | CVT | FWD | 50/45/48 | 54 | TBD |
Comparisons
Reviews
Videos
Model History