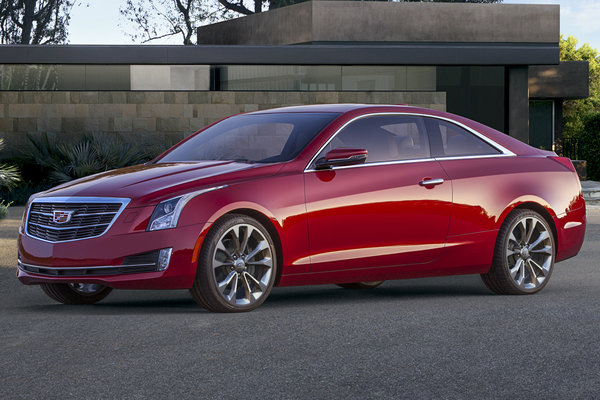 At a Glance
| | |
| --- | --- |
| Pricing | $37,995 - $51,435 |
| Drive Types | RWD, AWD |
| Engines | 2.0l I4 T, 3.6l V6 |
| Transmissions | A6, M6 |
Our Ratings
Overview Information
The Cadillac ATS is the smallest vehicle in the lineup. The smaller proportions of the ATS are almost identical to the BMW 3-Series, leaving the significantly larger CTS as an alternative to mid-sized luxury offerings. The ATS coupe is offered with two different engines, in both rear-wheel-drive and all-wheel-drive models. With an available six-speed manual transmission, the ATS is clearly aimed at its segment rivals. Like other Cadillac models, the ATS is offered in a range of trim level packages including, Luxury, Performance, and Premium. With prices ranging from $38,000 to over $50,000, the ATS is priced competitively with its German rivals.
What Changed:
Cadillac adds a coupe variant to the ATS line for the 2015 model year. Built on the same platform as the sedan, the coupe is offered with similar engine and driveline options. In coupe form, engine choices include a 2.0l turbocharged four-cylinder rated at 272-bhp and a 3.6l V6 rated at 321-bhp. Both rear-wheel-drive and all-wheel-drive models are available.
Official Word:
The Cadillac ATS lineup expands for 2015 with the all-new ATS Coupe. Lighter, more agile and more engaging than its competitors, it extends Cadillac's product-driven growth and the brand's tradition of dynamic luxury coupes - while the ATS Sedan continues to challenge the world's best premium cars with an acclaimed balance of performance and refinement, wrapped in a progressive expression of Cadillac's Art & Science design philosophy. The new ATS Coupe - offered with 2.0L Turbo...Read.
| Model/Trim/Package | Engine | | | MPG | VjI | Base Price |
| --- | --- | --- | --- | --- | --- | --- |
| ATS coupe | 2.0l I4 T (272-bhp) | M6 | RWD | | 74 | $37,995 |
| ATS coupe | 2.0l I4 T (272-bhp) | A6 | RWD | | 74 | $37,995 |
| ATS coupe Luxury | 2.0l I4 T (272-bhp) | M6 | RWD | | 74 | $41,920 |
| ATS coupe Luxury | 2.0l I4 T (272-bhp) | A6 | RWD | | 74 | $41,920 |
| ATS coupe Performance | 2.0l I4 T (272-bhp) | M6 | RWD | | 74 | $44,935 |
| ATS coupe Performance | 2.0l I4 T (272-bhp) | A6 | RWD | | 74 | $44,935 |
| ATS coupe Premium | 2.0l I4 T (272-bhp) | M6 | RWD | | 74 | $47,095 |
| ATS coupe Premium | 2.0l I4 T (272-bhp) | A6 | RWD | | 74 | $47,095 |
| ATS coupe Luxury | 3.6l V6 (321-bhp) | A6 | RWD | | 74 | $45,150 |
| ATS coupe Performance | 3.6l V6 (321-bhp) | A6 | RWD | | 74 | $48,165 |
| ATS coupe Premium | 3.6l V6 (321-bhp) | A6 | RWD | | 74 | $50,325 |
| ATS coupe | 2.0l I4 T (272-bhp) | A6 | AWD | | 71 | $40,445 |
| ATS coupe Luxury | 2.0l I4 T (272-bhp) | A6 | AWD | | 71 | $44,520 |
| ATS coupe Performance | 2.0l I4 T (272-bhp) | A6 | AWD | | 71 | $46,935 |
| ATS coupe Premium | 2.0l I4 T (272-bhp) | A6 | AWD | | 71 | $48,205 |
| ATS coupe Luxury | 3.6l V6 (321-bhp) | A6 | AWD | | 71 | $47,750 |
| ATS coupe Performance | 3.6l V6 (321-bhp) | A6 | AWD | | 71 | $50,165 |
| ATS coupe Premium | 3.6l V6 (321-bhp) | A6 | AWD | | 71 | $51,435 |
Comparisons
Reviews
Videos
Model History