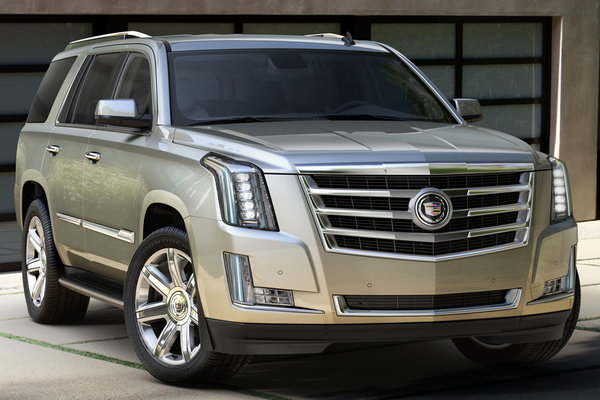 At a Glance
| | |
| --- | --- |
| Pricing | $71,695 - $82,795 |
| Drive Types | RWD, 4WD |
| Engines | 6.2l V8 |
| Transmissions | A6 |
| Fuel Economy | 14-15 (city), 21 (highway) |
Our Ratings
Overview Information
In 1999, GM slapped a Cadillac face on its popular Tahoe/Yukon SUV, creating an ostentatious status symbol in the long tradition of Cadillac. Now in its third generation, the Escalade includes a standard 6.2l V8 engine and upgraded interior to help justify a $20,000 price premium over its siblings. Although full-size SUVs have become popular as family haulers, their only real advantage is higher tow ratings of over 7500 lbs. Full-size SUVs with truck underpinnings are robbed of interior space with the body mounted over the frame. Most buyers would be better served with a crossover SUV such as the GMC Acadia. Many offer similar legroom with improved cargo capacity and fuel efficiency for less money.
What Changed:
The latest Escalade wears new styling on a body that is longer and wider. Power in the 6.2l V8 engine has increased to 420-bhp.
Official Word:
From its introduction in 1999, the Cadillac Escalade quickly became the standard among luxury SUVs, with a formula of bold design, powerful capability and luxurious accommodations. The all-new 2015 Escalade takes design and technical elements from Cadillac's product expansion to elevate the brand's signature SUV. The fourth-generation Escalade has an entirely new exterior design yet is instantly recognizable. Inside, cut-and-sewn materials and wood trim, chosen for elegance and authenticity, combine with the latest technologies to convey...Read.
| Model/Trim/Package | Engine | | | MPG | VjI | Base Price |
| --- | --- | --- | --- | --- | --- | --- |
| Escalade Standard | 6.2l V8 (420-bhp) | A6 | RWD | 15/21/18 | 46 | $71,695 |
| Escalade Luxury | 6.2l V8 (420-bhp) | A6 | RWD | 15/21/18 | 46 | $75,695 |
| Escalade Premium | 6.2l V8 (420-bhp) | A6 | RWD | 15/21/18 | 46 | $80,195 |
| Escalade Standard | 6.2l V8 (420-bhp) | A6 | 4WD | 14/21/17 | 38 | $74,295 |
| Escalade Luxury | 6.2l V8 (420-bhp) | A6 | 4WD | 14/21/17 | 38 | $78,295 |
| Escalade Premium | 6.2l V8 (420-bhp) | A6 | 4WD | 14/21/17 | 38 | $82,795 |
Comparisons
Reviews
Videos
Model History