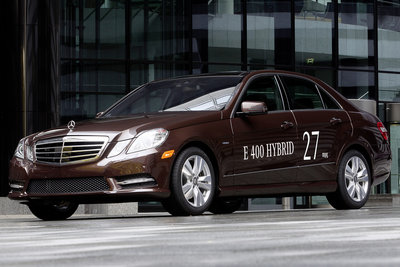 At a Glance
| | |
| --- | --- |
| Pricing | $51,000 - $89,800 |
| Drive Types | RWD, AWD |
| Engines | 3.0l V6 T D, 3.5l V6, 3.5l V6 HEV, 4.7l V8 T, 5.5l V8 T |
| Transmissions | A7, SM7 |
| Fuel Economy | 16-24 (city), 24-32 (highway) |
Overview Information
The long-running E-Class slots between the entry-level C-Class sedan and the flagship S-Class sedan in the US model range. There are several models with alphanumeric model names to indicate the powertrains within. A 302-bhp 3.5 L V6 powers the E350, whereas a 402-bhp V8 powers the E550. Both are fitted with a 7-speed automatic transmission. Customers can choose to add 4MATIC all-wheel-drive for all-weather traction. A sport appearance package adds body cladding and more aggressive wheels and tires. The ultimate E-Class sedan is the E65 AMG, a factory tuned beast with over 500 horsepower under the hood.
What Changed:
Mercedes adds a gas/electric hybrid model for 2013. The E400 Hybrid pairs a V6 engine with an electric motor for additional power and fuel economy. An updated telematics system becomes standard equipment.
Official Word:
Mercedes-Benz is opening a new chapter in its core segment while at the same time setting new standards for luxury sedans. The E300 BlueTEC HYBRID (European model) impresses with new record values when it comes to efficiency. It boasts exemplary consumption levels (4.2 l/100 km1) as well as impressive performance: the E300 BlueTEC HYBRID combines a 4-cylinder diesel engine developing 201 hp and 369 lb-ft of torque with an electric motor producing 27 hp and 184...Read.
| Model/Trim/Package | Engine | | | MPG | VjI | Base Price |
| --- | --- | --- | --- | --- | --- | --- |
| E-Class Sedan E350 | 3.5l V6 (302-bhp) | A7 | RWD | 20/30/24 | | $51,000 |
| E-Class Sedan E350 leather | 3.5l V6 (302-bhp) | A7 | RWD | 20/30/24 | | $52,620 |
| E-Class Sedan E350 4MATIC | 3.5l V6 (302-bhp) | A7 | AWD | 19/29/24 | | $53,500 |
| E-Class Sedan E350 4MATIC leather | 3.5l V6 (302-bhp) | A7 | AWD | 19/29/24 | | $55,120 |
| E-Class Sedan E350 BlueTEC leather | 3.0l V6 T D (210-bhp) | A7 | RWD | 22/32/26 | | TBD |
| E-Class Sedan E350 BlueTEC | 3.0l V6 T D (210-bhp) | A7 | RWD | 22/32/26 | | TBD |
| E-Class Sedan E400 Hybrid | 3.5l V6 HEV (302-bhp) | A7 | RWD | 24/30/27 | | TBD |
| E-Class Sedan E400 Hybrid leather | 3.5l V6 HEV (302-bhp) | A7 | RWD | 24/30/27 | | TBD |
| E-Class Sedan E550 4MATIC | 4.7l V8 T (402-bhp) | A7 | AWD | 16/26/20 | | $60,400 |
| E-Class Sedan E63 AMG | 5.5l V8 T (518-bhp) | SM7 | RWD | 16/24/20 | | $89,800 |
Comparisons
Reviews
Videos
Model History