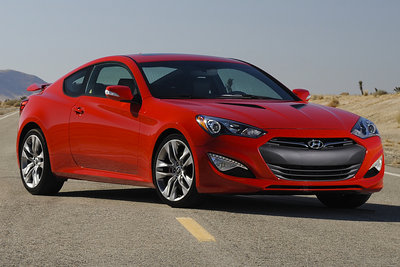 At a Glance
| | |
| --- | --- |
| Pricing | $24,250 - $34,250 |
| Drive Types | RWD |
| Engines | 2.0l I4 T, 3.8l V6 |
| Transmissions | A8, M6 |
| Fuel Economy | 18-21 (city), 27-31 (highway) |
Our Ratings
Overview Information
Don't let the Genesis nameplate confuse you, the Genesis coupe is a very different car from Hyundai's outstanding rear-wheel-drive luxury sedan. The Genesis coupe is a rear-wheel drive coupe that has more in common with performance coupes like the Ford Mustang, Nissan 370Z and Chevrolet Camaro than it does any other mid-sized coupe in the price range. Genesis Coupe 2.0T models have a 274-bhp turbocharged four cylinder under the hood, whereas Genesis Coupe 3.8 models equip a 348-bhp V6. A variety of trim levels includes the enthusiast-oriented track models and the R-Spec package aimed at tuners. The Genesis coupe equipped with a six-speed manual is one of the best performance values on the market.
What Changed:
The updated Genesis Coupe wears a redesigned front fascia, grille, headlamps and hood. The 3.8l V6 now includes direct injection technology and produces 348-bhp and 295 lb-ft. of torque. The 2.0l four-cylinder has an updated turbocharger increasing power to 274-bhp. The updated engines are paired with either a six-speed manual or a new eight-speed automatic.
Official Word:
Hyundai Motor America today introduced the significantly redesigned 2013 Genesis Coupe in a North American debut at the Detroit North American International Auto Show. In keeping with impressive performance upgrades, Genesis Coupe now sports more aggressive coupe styling, complemented by improved interior materials and design. Both 4-cylinder and V6 engines benefit from significant technology enhancements, with the 3.8-liter V6 engine receiving sophisticated direct-injection technology and the 2.0-liter turbocharged engine upgrading to a more precise twin-scroll turbocharger...Read.
| Model/Trim/Package | Engine | | | MPG | VjI | Base Price |
| --- | --- | --- | --- | --- | --- | --- |
| Genesis coupe | 2.0l I4 T (274-bhp) | M6 | RWD | 21/30/25 | 79 | $24,250 |
| Genesis coupe | 2.0l I4 T (274-bhp) | A8 | RWD | 20/31/25 | 76 | $25,500 |
| Genesis coupe R-Spec | 2.0l I4 T (274-bhp) | M6 | RWD | 21/30/25 | 83 | $26,500 |
| Genesis coupe Premium | 2.0l I4 T (274-bhp) | A8 | RWD | 20/31/25 | 80 | $28,750 |
| Genesis coupe R-Spec | 3.8l V6 (348-bhp) | M6 | RWD | 18/27/22 | 79 | $28,750 |
| Genesis coupe Grand Touring | 3.8l V6 (348-bhp) | A8 | RWD | 18/28/22 | 76 | $32,000 |
| Genesis coupe Track | 3.8l V6 (348-bhp) | M6 | RWD | 18/27/22 | 81 | $33,000 |
| Genesis coupe Track | 3.8l V6 (348-bhp) | A8 | RWD | 18/28/22 | 80 | $34,250 |
Comparisons
Reviews
Videos
Model History