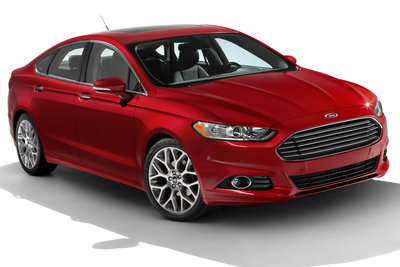 At a Glance
| | |
| --- | --- |
| Pricing | $21,700 - $40,200 |
| Drive Types | FWD, AWD |
| Engines | 1.6l I4 T, 2.0l I4 HEV, 2.0l I4 T, 2.5l I4 |
| Transmissions | A6, CVT, M6 |
| Fuel Economy | 22-47 (city), 31-47 (highway) |
Our Ratings
Overview Information
The Ford Fusion fits between the compact Focus sedan and the larger Taurus in Ford's lineup. However, the Fusion may be the most important car that Ford makes as it competes in the hotly contested mid-sized segment. The Fusion offers distinctive styling, a wide choice of powertrain and a good value. The redesigned 2013 Fusion is at the leading edge of powertrain and connectivity technology. A number of features like optional all-wheel-drive and start/stop technology are rare in the segment, and the availability of a plug-in hybrid model is rare in the industry. Pricing will be available closer to the vehicle's launch later in 2012.
What Changed:
The second generation of Ford's mid-sized sedan grows considerably in wheelbase and height yielding improved legroom and headroom. The Fusion is offered with several four-cylinder engines including a 1.6L turbo, 2.0L turbo and a 2.5L. Hybrid and plug-in hybrid (Fusion Energi) models pair electric motors with a 2.0L gas engine for significantly improved fuel economy.
Official Word:
Ford's all-new Fusion brings alive the next generation of more expressive vehicles from Ford and is the first sedan to offer gasoline, hybrid and plug-in hybrid versions - each expected to deliver top fuel economy and an engaging driving experience. Featuring a sleek silhouette and fresh face, the all-new Fusion is the latest in a series of vehicles from Ford - following the 2011 Fiesta subcompact and 2012 Focus small cars - developed to satisfy customers...Read.
| Model/Trim/Package | Engine | | | MPG | VjI | Base Price |
| --- | --- | --- | --- | --- | --- | --- |
| Fusion S | 2.5l I4 (175-bhp) | A6 | FWD | 22/34/27 | 54 | $21,700 |
| Fusion SE 203 | 2.5l I4 (175-bhp) | A6 | FWD | 22/34/27 | 57 | $23,700 |
| Fusion SE 203 | 1.6l I4 T (178-bhp) | A6 | FWD | 23/36/29 | 57 | $24,495 |
| Fusion SE 203 | 1.6l I4 T (178-bhp) | M6 | FWD | 25/37/30 | 61 | $24,495 |
| Fusion SE 204 | 2.0l I4 T (240-bhp) | A6 | FWD | 22/33/27 | 63 | $26,165 |
| Fusion SE 205 | 1.6l I4 T (178-bhp) | A6 | FWD | 23/36/29 | 57 | $26,795 |
| Fusion SE 205 | 1.6l I4 T (178-bhp) | M6 | FWD | 25/37/30 | 61 | $26,795 |
| Fusion SE 205 | 2.0l I4 T (240-bhp) | A6 | FWD | 22/33/27 | 63 | $28,465 |
| Fusion Titanium | 2.0l I4 T (240-bhp) | A6 | FWD | 22/33/27 | 63 | $30,200 |
| Fusion Titanium | 2.0l I4 T (240-bhp) | A6 | AWD | 22/31/26 | 63 | $32,200 |
| Fusion Hybrid SE 503 | 2.0l I4 HEV (188-bhp) | CVT | FWD | 47/47/47 | 54 | $27,200 |
| Fusion Hybrid SE 505 | 2.0l I4 HEV (188-bhp) | CVT | FWD | 47/47/47 | 54 | $29,200 |
| Fusion Hybrid Titanium | 2.0l I4 HEV (188-bhp) | CVT | FWD | 47/47/47 | 54 | $32,200 |
| Fusion Energi SE | 2.0l I4 HEV (188-bhp) | CVT | FWD | | 54 | $38,700 |
| Fusion Energi Titanium | 2.0l I4 HEV (188-bhp) | CVT | FWD | | 54 | $40,200 |
Comparisons
Reviews
Model History