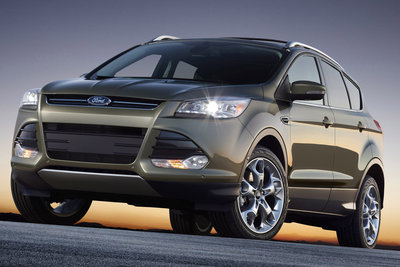 At a Glance
| | |
| --- | --- |
| Pricing | $22,470 - $32,120 |
| Drive Types | FWD, AWD |
| Engines | 1.6l I4 T, 2.0l I4 T, 2.5l I4 |
| Transmissions | A6 |
| Fuel Economy | 21-23 (city), 28-33 (highway) |
Our Ratings
Overview Information
The Ford Escape continues to be a success in the compact SUV segment. This SUV offers a combination of nimble handling and a comfortable ride. Compact SUVs are the sweet spot in the market offering generous cargo hauling without the fuel economy penalty of the larger models. The Escape offers a range of engines including a 237-bhp turbocharged four-cylinder engine. A six-speed automatic is standard on all models.
What Changed:
The Escape is all-new for 2013. The new model trades the blocky styling of the prior model for a sleek new look. The Escape gains 2 inches in length, and loses 2 inches in height. Although the wheelbase has grown by 2 inches, the passenger space is roughly the same size as before. Ford offers three engines ranging from a 168-bhp 2.5l four cylinder to a 237-bhp turbocharged four cylinder. All are mated to a six speed automatic transmission. Both front-wheel-drive and all-wheel-drive models are offered.
Official Word:
The Ford Escape, America's best-selling SUV, will raise the bar even higher with the debut of an all-new model that features 11 new exclusive features and fuel economy projected to top any vehicle of its kind on the market today. "We call our all-new Ford Escape the 'Smarter Utility Vehicle' because it offers the strengths that customers today really value - fuel economy, versatility and new technology that makes driving and living with the vehicle easier...Read.
| Model/Trim/Package | Engine | | | MPG | VjI | Base Price |
| --- | --- | --- | --- | --- | --- | --- |
| Escape S | 2.5l I4 (168-bhp) | A6 | FWD | 22/31/26 | 38 | $22,470 |
| Escape SE | 1.6l I4 T (173-bhp) | A6 | FWD | 23/33/28 | 42 | $25,070 |
| Escape SE | 2.0l I4 T (237-bhp) | A6 | FWD | 22/30/26 | 46 | $26,165 |
| Escape SE | 1.6l I4 T (173-bhp) | A6 | AWD | 22/30/26 | 40 | $26,820 |
| Escape SE | 2.0l I4 T (237-bhp) | A6 | AWD | 21/28/24 | 46 | $27,915 |
| Escape SEL | 1.6l I4 T (173-bhp) | A6 | FWD | 23/33/28 | 45 | $27,870 |
| Escape SEL | 2.0l I4 T (237-bhp) | A6 | FWD | 22/30/26 | 49 | $28,965 |
| Escape SEL | 1.6l I4 T (173-bhp) | A6 | AWD | 22/30/26 | 43 | $29,620 |
| Escape SEL | 2.0l I4 T (237-bhp) | A6 | AWD | 21/28/24 | 49 | $30,715 |
| Escape Titanium | 2.0l I4 T (237-bhp) | A6 | FWD | 22/30/26 | 49 | $30,370 |
| Escape Titanium | 2.0l I4 T (237-bhp) | A6 | AWD | 21/28/24 | 49 | $32,120 |
Comparisons
Reviews
Videos
Model History