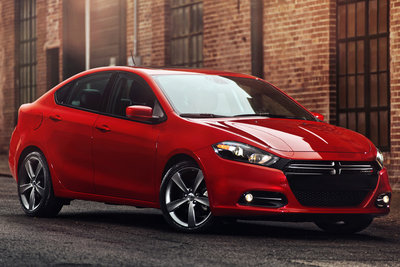 At a Glance
| | |
| --- | --- |
| Pricing | $15,995 - $23,340 |
| Drive Types | FWD |
| Engines | 1.4l I4 T, 2.0l I4, 2.4l I4 |
| Transmissions | A6, M6, SM6 |
| Fuel Economy | 21-28 (city), 30-41 (highway) |
Our Ratings
Overview Information
The Dodge Dart is a compact sedan based off the Alfa Romeo Giulietta. The Dart is offered with three engines, five trim levels, 12 exterior colors and 14 interior trim combinations ensuring that there is a model for everyone.
What Changed:
The Dart is new compact car from Dodge which is based on the Alfa Romeo Giulietta. The Dart is offered with an array of four-cylinder powertrains including a 2.0l, a turbocharged 1.4l, and a 2.4l. All three are paired with six speed manual and automatic transmissions. The Dart will be offered in numerous trim levels: SE, SXT, Rallye, Aero, Limited and GT.
Official Word:
The Dodge brand dug deep into its rich, nearly 100-year history to name its all-new compact car, the 2013 Dodge Dart, and is again drawing on the storied history for the newest Dodge Dart model. The sporty Dart GT model originally made its debut in 1963 and offered drivers enhanced performance and style, including a heavy-duty suspension that delivered improved ride and handling characteristics. The all-new 2013 Dodge Dart GT model delivers sport-tuned suspension attributes that...Read.
| Model/Trim/Package | Engine | | | MPG | VjI | Base Price |
| --- | --- | --- | --- | --- | --- | --- |
| Dart SE | 2.0l I4 (160-bhp) | M6 | FWD | 25/36/30 | 56 | $15,995 |
| Dart SE | 2.0l I4 (160-bhp) | A6 | FWD | 24/34/28 | 56 | $17,245 |
| Dart SE Value | 2.0l I4 (160-bhp) | M6 | FWD | 25/36/30 | 56 | $16,990 |
| Dart SE Value | 2.0l I4 (160-bhp) | A6 | FWD | 24/34/28 | 56 | $18,240 |
| Dart SXT | 2.0l I4 (160-bhp) | M6 | FWD | 25/36/30 | 59 | $17,995 |
| Dart SXT | 2.0l I4 (160-bhp) | A6 | FWD | 24/34/28 | 59 | $19,245 |
| Dart SXT | 1.4l I4 T (160-bhp) | M6 | FWD | 27/39/32 | 61 | $19,295 |
| Dart SXT | 1.4l I4 T (160-bhp) | SM6 | FWD | 27/37/32 | 61 | $20,445 |
| Dart Aero | 1.4l I4 T (160-bhp) | M6 | FWD | 28/41/34 | 58 | $19,295 |
| Dart Aero | 1.4l I4 T (160-bhp) | SM6 | FWD | 28/40/33 | 58 | $20,445 |
| Dart Rallye | 2.0l I4 (160-bhp) | M6 | FWD | 25/36/30 | 59 | $18,995 |
| Dart Rallye | 2.0l I4 (160-bhp) | A6 | FWD | 24/34/28 | 59 | $20,245 |
| Dart Rallye | 1.4l I4 T (160-bhp) | M6 | FWD | 27/39/32 | 61 | $20,295 |
| Dart Rallye | 1.4l I4 T (160-bhp) | SM6 | FWD | 27/37/32 | 61 | $21,445 |
| Dart Limited | 2.0l I4 (160-bhp) | M6 | FWD | 25/36/30 | 59 | $19,995 |
| Dart Limited | 2.0l I4 (160-bhp) | A6 | FWD | 24/34/28 | 59 | $21,245 |
| Dart Limited | 1.4l I4 T (160-bhp) | M6 | FWD | 27/39/32 | 61 | $21,295 |
| Dart Limited | 1.4l I4 T (160-bhp) | SM6 | FWD | 27/37/32 | 61 | $22,445 |
| Dart Limited Premium | 2.0l I4 (160-bhp) | M6 | FWD | 25/36/30 | 59 | $20,890 |
| Dart Limited Premium | 2.0l I4 (160-bhp) | A6 | FWD | 24/34/28 | 59 | $22,140 |
| Dart Limited Premium | 1.4l I4 T (160-bhp) | M6 | FWD | 27/39/32 | 61 | $22,190 |
| Dart Limited Premium | 1.4l I4 T (160-bhp) | SM6 | FWD | 27/37/32 | 61 | $23,340 |
| Dart GT | 2.4l I4 (184-bhp) | M6 | FWD | 23/33/28 | 63 | $20,995 |
| Dart GT | 2.4l I4 (184-bhp) | A6 | FWD | 21/30/25 | 63 | $22,245 |
Comparisons
Reviews
Videos
Model History